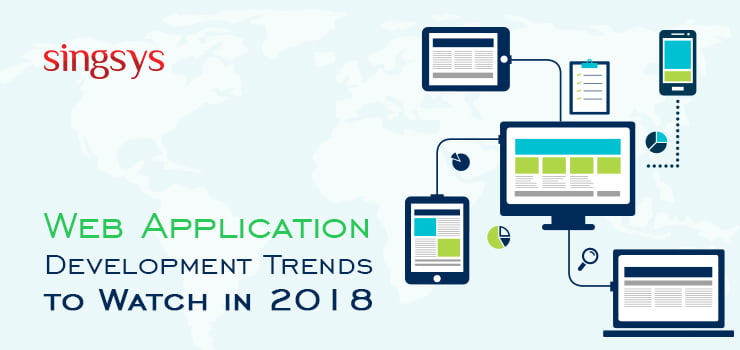 Web technologies are evolving at an amazingly high rate. One that was popular yesterday may or may not be impactful today. Being an insider of the industry I would like to introduce to you the fact that Web development industry is prone to frequent changes.New technologies arrive to replace existing ones and we will witness the same in 2018. In this article, I will explain upcoming  web development trends that will enable developers with improvised functionalities and eventually boost their productivity.
Chatbot Assistance and AI (Artificial Intelligence)
Chatbots really make things simple for e-commerce developers by ensuring they develop interactive online store with amazingly supportive and quick online assistance to keep the customer coming back frequently. It allows customers to quickly order tickets, food, and more with one simple click. It is a powerful prediction by gartner that by 2020 customer interaction will successfully proceed without any human intervention.
The advanced chatbots will even be able to understand live speech and learn from the same like eBay is using a chatbot in Facebook Messenger regarding the communication process. They will be used for FAQ section, where instead scrolling down, customer can simply ask a question
Image credit: sparkup
2) Motion UI
This is one of the most promising web application development trends in 2018. The whole idea of Motion UI is to help developers ensure they design a website with a minimalistic approach and moderate design to let not users get tired with excessive GIFs and flashing content. It is poised to become popular very soon where animations will allow web developers to include styling for development of a unique website with static UI and make it stand out from others.
Image credit: zurb
3) Blockchain
This is the key player in ensuring the most secure method of collective data storage. There are an innumerable number of computers in the world with a huge set of information stored on them and this data is decentralized. Blockchain will provide a high level of security in this scenario. The main benefit will be that there will be no intermediaries between the transactions. Every transaction will be verified and will rely upon complex and robust algorithms in spite of a huge number of computers being a part of the process.
The potential of blockchain is realised by multiple multinational banks as they are very positive  about using blockchain technology in their systems to ensure full security of their data
Image credit: rephrecruiting
4) AR (Augmented Reality)
Augmented Reality is an easy, quick and highly interactive web application development trend. This will help marketers to approach their targets audience in an interactive and hassle free manner. Snapchat has also opted for an AR feature that will allow users to include their Bitmoji and project it simply with their phone's camera. Interestingly, brands will also be able to put special filters on their products.
Image credit: iamwire
5) Single-Page Websites
Single page website tends to be long and smoothly scroll able page where users simply scroll down to gather the required information without any need to visit any other page. In this manner, it saves users from being trapped into complex navigation or multi-level menus. I agree that these are not useful for e-commerce yet they are highly useful for mobile websites. Among the multiple business benefits, one is cost cutting in website designing, hosting and development. These type of websites tend to bring more conversions.
6) Push Notifications for Websites
An awesome trend for e-commerce web application developers, which is inline to appear in 2018. The motive of push notifications for websites to increase the existing efficiency with re-engaging the user which will eventually benefit the business in long run. Interestingly, this will also let the user to be notified about any sort of change over website even if they are not active on the website. It will keep users engrossed without any special effort.
Image credit : letreach
Do you agree with our blog? Share your predictions by commenting on our facebook page and make sure to follow us on social media to gather unbiased insights about various domain of technologies specially the upcoming technologies that are predicted to revolutionize tomorrow for better.
Partner with Singsys to develop an engaging mobile, web and e-commerce application to turn your ideas into real working apps. Singsys has talented and certified pools of developers to design an affordable and attractive solutions for clients in compliance with industry standards using state of the art cutting edge technologies. Get Quote Now.
You may be interested in: