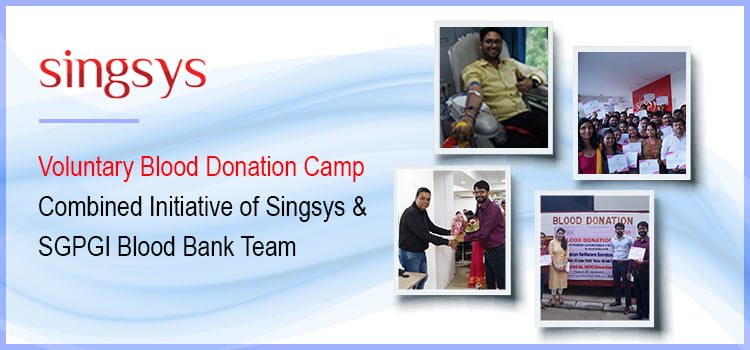 Singsys leap forward towards uptaking CSR in the fullest zest!
Singsys's pursuit onto 'corporate social responsibility' was well received with the recent testimony of contributing the massive share per 'blood donation' disposals at Lucknow's development center. 
With the zealous contribution of 42 blood donors from amongst the Singsys's family, we contributed massively towards making this blood donation campaign a huge leap forward helping Thalassemia patients in collaboration with SGPGI Blood Bank Team and Raktpurak Charitable Foundation. 
The proceedings were initiated with the pre-screening and testing which further culminated into tremendous blood donations with our COO, respected Mr. Gulshan Verma inaugurating the session with his sincerest contribution.  
The drive was well-received as one of the hailed collective community efforts per the humanitarian causes. We hope to even further embark upon similar grounds with further ground-breaking initiatives and hereby extending humblest gratitude to every significant donor for setting such a  noteworthy milestone!
Towards humanitarian pursuits and noblest ventures is what we uptake within the realms of Singsys's core values…
"Your blood is precious: Donate, save a life & make it Divine."