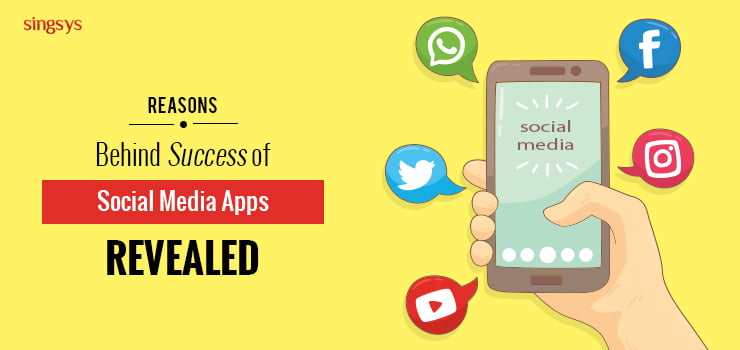 There are multiple reasons that are behind the popularity of social media but the one that sparked the unprecedented rise of  social media apps as a window to fascinating world of sharing and connections is it allows  users to be  part of a community with shared interests and platform to know others that were very similar to you. It also smartly help users to expand their network, add friends, boost their careers, build connections, recruit employees, and find people with unique skills.
Following reasons are behind various form of social media rise.
Facebook & Twitter – Easily sharing thoughts globally
YouTube – Video entertainment
Snapchat – Sharing personal moments with friends, family and strangers
Pinterest– Sharing and exploring hobby, ideas and experience
Instagram– Sharing beautiful visuals with friends and strangers
LinkedIn – Networking for new job opportunities
Tinder & Bumble – Finding dates and soulmates
Among above mentioned platforms the most popular ones are Facebook & Twitter as user are able to relate a Facebook 'Like' or a Twitter 'Favourite' is a social signal to make users feel good as well as eliminates the fear of missing out something. Facebook's dominance is totally extraordinary. It not only captures the top most spot but other platforms related to facebook are occupying the  2nd and 3rd position respectively. facebook owned Instagram is 2nd in engagement.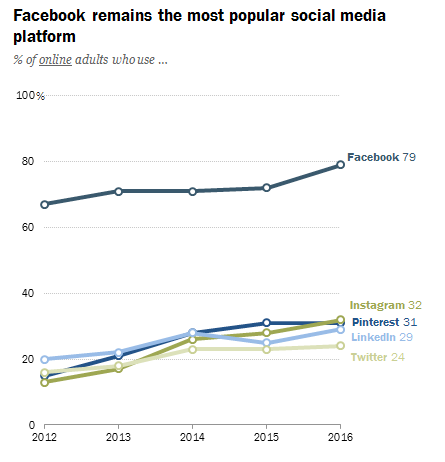 image credit: smartinsights.com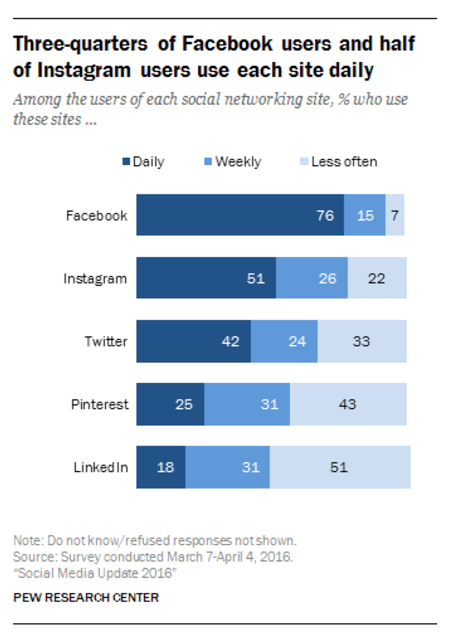 image credit: smartinsights.com
Let us explore the reasons for high popularity of social media platforms.
Self Expression
One of the important reason why Facebook, Pinterest, Instagram, and Twitter are so popular is that they give people a voice of their choice unlike, before when global exposure was limited till celebrities and politicians now every user has been empowered by  social media to share with world their ideas, beliefs and opinions.
Social media apps also connect and engaged us with family, friend and colleagues. It act as perfect platform for not only  establishing an online identity but also sharing our expertise, hobby and interests as well as communicate and explore the same semantics of other like minded persons available online.
Communication gets Easier and Bigger
The core of social networking sites is new way of communication which is different and more engaging than direct face to face interaction. Social media allow us to get updated about various aspects of different people, organisations and other things that lies in their domain of interest in a time effective and convenient manner.
It will turn out to be hefty task to call all your friends at once to know about their weekend but this can be easily achieved by using platform like Facebook, Twitter or Instagram within few minutes.
It is Free
Yes all these top popular social networking platforms are free to use and explore probably a reason behind their popularity. The idea of using tools to communicate and share ones needs, opinions, and though without having to pay for it sounds like an opportunity to everybody.
Businesses Expansion
Another key reason behind the quick and big success of social networking sites is their popularity and reach can be harnessed to help businesses to reach and capture the potential customers easily. Their  approach is different from Google when it comes to targeting the potential customers. As social media networks developed more perfectly target audience which can be leveraged by businesses to engage their potential customer based on their profiles.
Due to unique access that social networks have to most personal data of users like hobbies, interests, likes and places frequently visited can be analysed and draw patterns to help businesses in properly circulating the advertisements in most accurate and convincing manner.
Video credit: Brian Kim
Recent launch by social media platforms to continue being popular
 Facebook is currently testing a MSQRD integration with the News Feed. Masquerade allows to users to record video selfie with multiple innovative animations which  changes the way you look.
 Instagram included Stories with which users can post time defined videos and photos. These post will be auto deleted after 24 hours.
 Spectacle by Snapchat are sunglasses capable of taking a snap. A simple tap on the glasses will let you record the moment from user perspective. This moment can be later shared in Snapchat.
Twitter provided customer support features provides hassle free ways for businesses to provide complete customer support  direct from Twitter.
Hopefully, above information will be helpful in knowing the reasons behind the success of social media apps and their current trends to engage users. I personally believe social networks will not stop being popular anytime. We are social beings with natural urge towards social interaction. Social media apps have provided an easy efficient and innovative platform to serve the purpose completely as well as diminished the geographical boundaries. Looking forward to listen to your views and query regarding the same.
A user-oriented social media solution on latest technology to connect with other as well as share their thoughts, ideas and more with their family, friends and colleagues require precise analysis and high degree of innovation to be developed for ensuring a delightful experience. Singsys boasts best-fit developers, designers that were key to partner with multiple Fortune 500 firms to deliver industry oriented social media application as well as other web, mobile and e-commerce solution.
You may be interested in following: