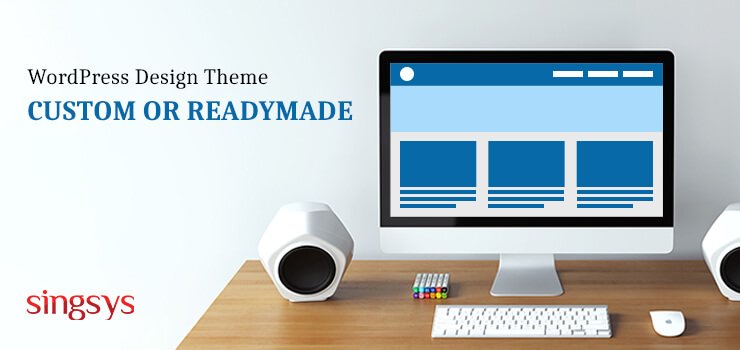 If you are ready to launch a WordPress website. The design and functionality will be your primary concern. Now you have to decide will a ready made theme or your requirements will be fulfilled only with customized theme that is developed from your point of view.
A WordPress theme consists of design templates  that are necessary for determining visual orientation of the website along with interactive layout of the interface. A meticulously chosen theme will not only define success rate of online business but also reduce chances of attracting unnecessary users. A theme can be modified to certain extent using plugins or with alteration addition to original code
Free and Paid both type of themes are available. Some themes can be adapted for various types of contents while other theme serve the purpose of blogging, business presentation, e-commerce etc. The important question is which theme should they select. Let's discuss and resolve the issue.
Ready Made WordPress Theme
These themes are developed by designers with sound knowledge in dealing with user friendly solutions and provide the options that are though not so obvious for average users but surely capable enough to positively impact the usability and rate of conversion. These themes are categorized thereby, letting user with specific goal to easily choose theme as per their requirement.
If you are looking for healthcare website theme simply set the filter to get a list of theme that are appropriate to your business objectives. This is a goal driven approach that is intended to find best possible option. These themes are future proof which are regularly updated and enjoy active community support specially for troubleshooting and customization.
Custom WordPress Theme
These type of WordPress theme provides the flexibility customizing features like website color, layout, scrolling animation, responsiveness, call-to-action and various other important aspect of website design. These feature will be coded and tested specifically as per your website requirement. In this manner you can have full control over even minute details of website. The idea of custom designed theme is to provide unique and user-friendly design solution based on user specific research and user testing. Designer can also provide you a redesign on behalf of already existing solutions.
Final Thoughts
Both theme design approach mentioned above serves different purpose of adaptability, pricing, maintenance. You need to emphasize over the benefits of above option keeping in mind the benefits for its user segment. There is no clear winner hence, it is appropriate to consider one that better suits your website design requirements.
Looking forward to respond to your queries and comments as far Ready made or Custom theme design is concerned.
About Singsys Pte. Ltd. Singsys is a solution provider that offer user friendly solution on cutting edge technologies to engage customers and boost your brand online results from a set of certified developers, designers who prefer optimized utilization of the available resources to align client's idea with their skillset to reflect it into a Mobile application, Web application or an E-commerce solution.
You may be interested in following:
WordPress Plugins Recommended for Social Media Sharing
WordPress Plugins for Trending Website