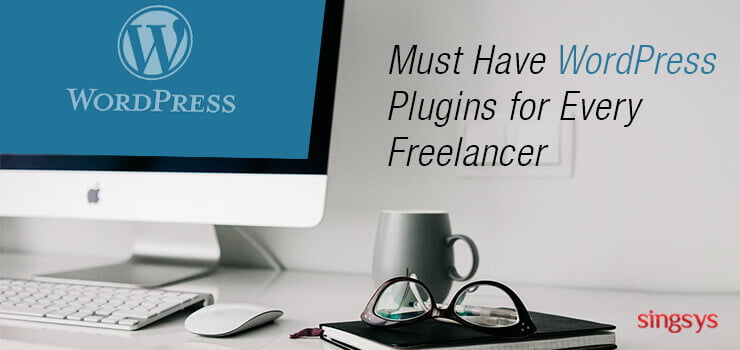 WordPress is unconditionally the global favorite CMS to establish your website on internet. It has a key role in boosting the online presence aka digital identity for millions of website owner and agencies. WordPress comes with several hundred options that extend its flexibility further. Choice of right theme or plugins might seem tough job.
To address this concern let us explore a few free and paid plugins that will really ease the life of freelancers irrespective of their domain.
Invoice generation is quite frequent practice for consultants. Sprout Invoice plugin will not only take care of your invoice but also ease your burden of tracking every customer by itself hence eliminating need of any software to keep things up and running for you. This tool enables sending and collection of bills. It will equally help you in setting up recurring payments as well as tracking payments. This is a free plugin.
Cost: Free (add-on available)
Rating: 10 on 10
Downloads: 1000+
2. WP-Super Cache
Sometimes we all stumble upon websites that take more than usual time to load. Statistics reveal if your website take more than 4 seconds to load means 25% of your business just gets lost. Fortunately there is WP-Super Cache plugin that manage digital space of your website to increase the page load time. It would use static file caching so that now, you need not invoke PHP to pull data from caching mechanism instead deliver it from the disk directly eventually decreasing the server load.
Following caching are available in WP-Super Cache
Database caching.
Object caching.
Browser caching.
Cost: Free
Rating: 8 on 10
Downloads: 1,000,000+
3. Inline Manuals
A consulting firm that has established itself will surely sometime feel the need to have a backed where clients can easily login to access particular data. It is an online documentation tool makes creation, updation and re-use documentation easy for WP users by setting up step by step tutorials that will train your website visitors to navigate your site.
Cost: Free (Paid versions also available)
Downloads: 20+
4. Broken Link Checker
It is obvious a website will have hundreds of pages and every one of it is equally important. No user visiting your website will be impressed after seeing a 404 error instead of what he was hoping to. Broken link. It is a highly configurable tool that prevents search engines from following broken links. It provide a filter on URL and anchor texts. No need of manual updation for every post as links can be easily updated directly from plugin page
Cost: Free
Rating: 9 on 10
Downloads: 400,000+
When user fill forms on your website it is a sign of productivity that measure your success and better know your visitor. It will let you create great forms to display on your website. Options such as surveys, user generated content and questionnaires are present in here. It is popular plugins among user who frequency of using form is more than ordinary.
Features:
Easy Guest Posting.
Hide or Shows few aspects of complicated forms using conditional logic.
By integrating with PayPal or Authorize.net it make it sets up a robust and reliable order form that accepts payment on your site
Cost: $39
Rating: 9 on 10
Downloads: 10,000+
Looking forward for your comment and query regarding what are your view in respect to trends that need to be stopped and boost website performance and user satisfaction. In the meanwhile i would recommend some general use often ignored plugins like Google Sitemap that helps google find your website and pretty easy to use, Ewww Image Optimizer to reduce the bandwidth of your images thereby, speeding up website page load time an important factor to determine ranking of website and Google Analytics (by Yoast) to know when and from where and who all are viewing your website.
About Singsys Pte. Ltd. Singsys is a solution provider that offer user friendly solution on cutting edge technologies  to engage customers and boost your brand online results from a set of certified developers, designers who prefer optimized utilization of the available resources to align client's idea  with their skillset to reflect it into a    mobile application, web application or an E-commerce solution.