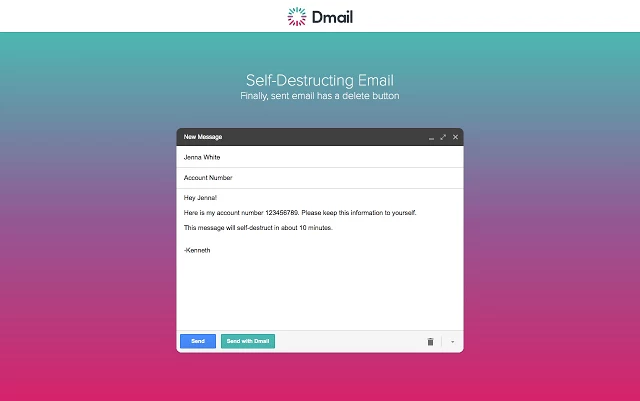 A new chrome extension 'Dmail' allows you to self-destruct Gmail messages. It permits you to un-send, or deny any messages you send through your Gmail account.
Self-destructing email is not totally a new thing. Google itself revealed a feature that gives you a chance to un-send any specific mail once you've sent it. But it has one big limitation that is you just have 30 seconds to alter your opinion about sending an email to somebody. Dmail gives you a chance to revoke messages at whatever point you like and it has amazingly advantageous approach to make all your active communication more secure.
To use Dmail, you can the install the chrome extension  on your Google Chrome browser. After installing, go to your Gmail inbox on the web and begin compose new email or message. Any new email you send will have the choice to switch Dmail on or off. Another Dmail toolbar seems simply over the customary one at the base of the "form" window. There's an on/off flip switch, and presets for to what extent you need the message to be accessible for. You can decide to have the email self-destruct inside of 60 minutes, a day or a week or pick "never" on the off chance that you would prefer not to set a pre-decided timeline. In the event that you need to revoke it sooner, or at a later date, you can go to your "sent" organizer in Gmail whenever and revoke any messages you've sent utilizing Dmail.
If, however, recipient has the extension installed, they can read your message right within Gmail itself. After a sender revokes an email, recipients with the extension installed will see a message like this: "this message has been destroyed and is no longer available." Those without the extension can in any case go into the email and tap on the "View Message" button, but they'll then see a similar "Message Unavailable" note on the resulting webview.
You can read more about Dmail at Mail.Delicious.com