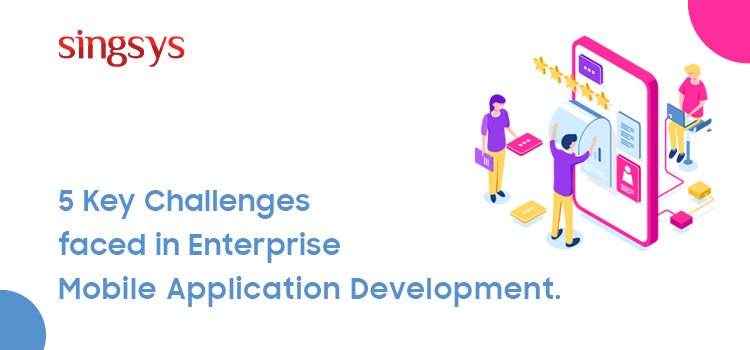 The mobile application development is experiencing a splendid growth. With the ubiquity and popularity of smartphones among consumers, there is a high demand for mobile application development. This prodigious development has led to the emergence of numerous mobile apps in the market. 
In this current scenario, the expectations of mobile app users have also increased manifold and it is quite challenging to stand up to their expectations. This mobile app development process deals with various challenges while enabling you to leverage the benefits of enterprise mobility. 
Now it's high time for organizations to reassess the necessity and value the worth of an application towards accentuating its business. Being a leading mobile application development company, we significantly can throw light on these below-mentioned challenges:
The enterprise mobile application development needs a team of expert developers to achieve the desired goals. This is an advanced development process and inscribes crucial aspects like database integration, UX design, security needs, etc. Singsys aptly possess an extensive unit of experienced mobile app developers who execute it while approaching the client's business needs and obtain results successfully.
Integration of Technological Advancements
Emerging advanced technologies like the Internet of Things (IoT), Augmented Reality and Machine Learning, etc. act as a challenge for mobile app developers. They need to be updated with these tech advancements and integration in the app. Advance technologies sometimes develop pressure while accomplishing the project on-time. Singsys has the pool of advanced technologies' development talent which makes it easier to keep the client fully staffed, coping with the demand for development requests.
In enterprise Mobile Application Development, the data is a key confidential factor. The developers must be aware of those potential risks and should be capable of utilizing the advanced encryption standard. Authentication plays a crucial role in Mobile Application Development. Singsys pays a great deal of attention to this as it is an important aspect of Mobile Device Management.
The mobile apps deal with highly confidential and critical corporate data. It is necessary to protect the user as well as the company's data apps, the mobility-related apps are complex and complicated as they are used in storing and sharing a myriad of data. But this functionality somehow makes the mobility app more vulnerable to cyber-attacks. Hackers can steal valuable data and cause the company irreparable loss. Singsys uses a strong data encryption system to secure all the crucial data and company information to achieve the desired objective for the best results and hence overcomes this challenge as well.
Developers build Enterprise Mobile Applications by keeping the user experience in mind. Singsys prefer aesthetically appealing UI design with a minimalist approach with a prime objective to ensure the success of an enterprise app. 
Conclusion
To thrive in this highly competitive mobile app market, Singsys has a team of mobile application development experts to create and develop superior apps. We use rapid app development tools to leverage our in-house teams and resources and build flawlessly functioning mobile enterprise solutions with hybrid apps, native app for a lot less in a much shorter time span! 
Additionally, we choose a platform that is scalable and flexible, we stand to make apps that would be future-proof with an ability to grow as your business evolves & expands.
Tags:
app security
,
application
,
apps
,
data
,
Database
,
development
,
encryption
,
enterprise
,
mobile
,
mobility
,
technologies
,
UI Design