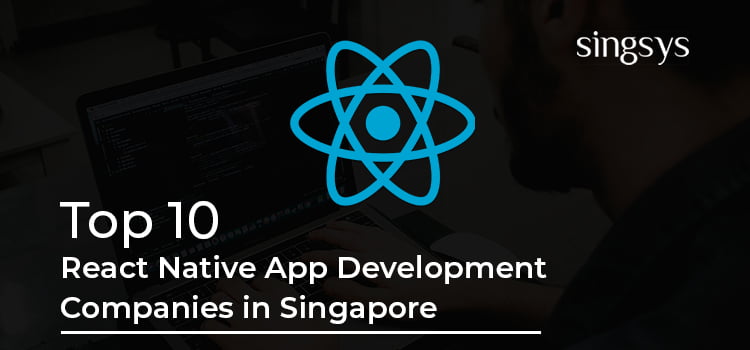 Developers find React Native app development a superior method over others as it lessen their development time as well as app can be reloaded almost immediately. It also enable the developer to simultaneously work with React Native and Native code.
Here is the list of top notch React Native app development companies in Singapore to ensure you hire the top rated React Native app developers to get your app build which is efficient as well as reliable.
1. Singsys – Cross-platform Mobile Apps that Look Native and Feel Native
Singsys is one of the leading mobile, web and eCommerce app development company in Singapore with a team of experienced developers who are dedicated to provide custom built mobile apps on Android & iOS that solves the purpose of client business without compromising on user friendliness and features.
The team of React Native developers at Singsys is competent enough to leverage the advantages associated with platform like reusable code, rich ecosystem, rapid development and open source to the maximum for development of best in class mobile apps for both platforms.  
Foundation Year: 2009
Company size: 51-200 employees
Speciality: React Native App Development, Flutter App Development, Website Development, Mobile Application Development, eCommerce Store development, and Digital Marketing.
2. Supreme Technologies – React Native App Development
Another small yet qualified team of React Native developers in Singapore with potential to quickly develop native apps by leveraging the developer friendly environment of React Native.

React Native developers at Supreme technologies are committed towards result driven app development process to ensure client success at all cost.
3. Mobiloitte
–
Building Advanced React Native Development
Mobiloitte is Singapore based IT firm with expertise in tailoring dynamic business solution for easing the client to achieve their business objectives. They leverage React Native javascript library to develop native android & iOS apps.
Developers at mobiloitte have several years of experience in building apps using React Native. They claim to be one of the fastest growing mobile app development company in Singapore. They have delivered several innovative React Native based solution to both startups and established enterprises.
Foundation Year: 2004
Company size: 201-500 employees
Speciality:  iOS Apps Development, Android Apps Development, Drupal, Magento, WordPress, Titanium, HTML5, PhoneGap, Enterprise Mobile Solutions, Biotechnology solutions, Bots, Internet of Things, Home Automation, On Demand Solution, Digital Branding, Mobility Solutions Consulting,Mobile App Marketing, Mobile Game Development, Salesforce Development, blockchain development,


4. QUAPE
–
React Native Mobile Apps Development
Quape is a SIngapore based IT firm with strong belief that React Native is perfect future of mobile apps. They build apps which provide delightful user experience and are helpful in terms of helping client business to reach and engage the target audience.

Quape is capable of managing their server and app development in house hence they are one stop solution for client business needs. Some of the notable clients they have worked with include Scoooby, CLP Group, WhizzCar, Slide & Hide, Informa and KhattarWong.
Foundation Year: 2006
Company size: 1-10 employees
Speciality: web design, mobile application, graphic design, web hosting,
website maintenance, web application design, search engine marketing, search engine optimization.


5. Focaloid – React Native App Development

Focaloid is one of the Singapore highly customer oriented digital solution provider that has been empowering brands in different industry domains. Their focus is on development of reliable and innovative business solution that are equally economical.

They are into development of highly efficient cross platform mobile apps by leveraging React Native. Their developers have developed robust & powerful server side applications using React Native in really short time frame. Some of the big brands focaloid has partnered with are Tech in Asia, Microsoft BizSpark, The Economic Times, The News Minute, iAccelerator, and more.
Foundation Year: 2012
Company size: 51-200 employees
Speciality: Mobile Development, Web Development, Robotic Process Automation, Artificial Intelligence, Enterprise Mobility, IT Services, AI, Big Data, IoT, Cloud, NLP, ERP, E-Commerce, Blockchain, Analytics, Digital Marketing.


6. Ranosys Technologies
–
Harnessing the Power of React Native Platform
Ranosys is renowned to deliver efficient and reliable React Native development services. They have a team dedicated for React Native development who expertise in leveraging the platform for development of native android and iOS apps.
In terms of React Native app development they provide services like agile development, server side APIs for mobile, React Native support & maintenance, and Minimum Viable Product.  
Foundation Year: 2008
Company size: 201-500 employees
Speciality: iPhone Apps Development, iPhone Apps Development, Healthcare IT Solutions, Magento Commerce, Enterprise eCommerce Solutions, CRM Solutions, eLearning and Education Solutions, Android Development, OutSystems, Salesforce.
7. LetsNurture
–
HIRE REACT NATIVE APP DEVELOPER
Let's Nurture leverage its experience and expertise in React Native to develop and deliver applications in less time without compromising on user friendliness and functionality.
They provide three engagement models for clients to hire React Native developers to choose one that best suits the client business model. Their developers are experienced in various React Native libraries to help them develop the best solution.
Foundation Year: 2008
Company size: 51-200 employees
Speciality: Mobile Applications Android / iOS, Social Media, Web Design & Development, Ecommerce Development, Wearable Apps, Beacon Development, IoT solutions, Wearable app development,  Blockchain app development, Search Engine Optimization, Consulting, Online Reputation Management, Branding, Conversion Optimization, healthcare solutions, SEO, Chatbot app development, Hire Mobile app developers, IT services providers.
8. INGIC
–
Get Robust React Native Mobile Apps
INGIC in Singapore is known for development of custom build mobile apps with eye catching user interface and high end features using the power of React Native and JavaScript. They develop various kind of React Native apps with features like chatbot, SMS alert system, online payment system, in-app purchase, and video & audio messages.
Their developers focus on developing app in a systematic process such that development process is carried out in a systematic manner to ensure top notch standards.
Foundation Year: 2012
Company size: 51-200 employees
Speciality: Website Design & Development, Mobile App Design & Development, Facebook Apps,  Email Marketing, Search Engine Optimization, Digital Marketing Strategy, Social Media Management, Software Development.
9. Skylark
–
Custom Mobile App Development Solutions for Enterprises and Startups in Singapore
Skylark in Singapore comprises of a team dedicated to React Native app development and their expertise over the platform has resulted in development of some high end cross platform app for unparalleled user experience.
They also provide after development support to ensure client business runs smooth and fine. Their apps built using React Native provide are capable of engaging users by providing an experience that is better than offered by native apps.
Foundation Year: 2014
Company size: 51-200 employees
Speciality: Mobile App Development, Web Design, Internet Marketing,  Game Development, Facebook Apps, Content Media, Web Development


10. Metizsoft — Hire React Native Developers & Consultants
Metizsoft has a lot to speak about when it comes to React Native app development which includes warehouse management system, chart JavaScript libraries for good user experience, firebase integration, geofencing, and barcode scanning.

They have developed mobile applications using the framework for various verticals including healthcare, travel and many more. They follow a strategic pattern and a  result driven approach to turn client app idea into a reality.
Foundation Year: 2012
Company size: 51-200 employees
Speciality: Web Application Development, Software Development, Mobile Application Development, Ecommerce Development, Shopify Experts, Volusion Experts, BigCommerce Experts, Visitor Management System, Soundest Experts, Solar CRM.


You may be interested in following: