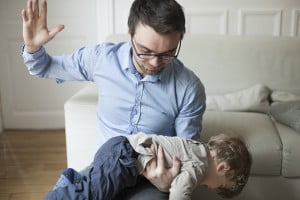 First thing first, 'What is Google Penalty ?'
"A Google penalty is the negative impact on a website's search rankings based on updates to Google's search algorithms and/or manual review. The penalty can be an unfortunate by-product of an algorithm update or an intentional penalization for various black-hat SEO techniques." – WikiPedia
In the definition above, it is clearly stated that any violators of Google's ethics must have meet penalty. Whether it is a publisher, making spammy and poor quality content or a website having irrelevant backlinks, they must face off a penalty.
There is a war around on the internet and each and everyone wants to bring his/her product or brand in the top searches. And, no need to mention what role Google is playing. But, the problem begins when SEOs and Online Promoters forget their limits, then Google turns out its Weapons.
Symptoms of Google Penalization:
If your website is unable to attain good rank even for some basic keywords.

A ranking of the web pages is continually slipping from page one to two or three without conducting any activity by the webmaster, it indicates Google penalty.

Fluctuation in web ranking from the respectable positions to lower positions.

A sudden disappearance of the website overnight from the Google's cached results.

When you search your domain by yourdomain.com and get zero results.

If Google listing shows other pages of your website instead of the home page, another indication of Google penalty.
Google Penguin Update.
Introduced on April 24, 2011.
Google Penguin's prime focus to deal with black hat SEO techniques. In this kind of bad SEO practices link manipulation is commonly used which is unethical.
Primal Tasks of Google Penguin to deal with :
Quality of Content

Blog Comments

Social links

Low ratio of ads to content

Privacy and Genuine

Over Optimization

Logins
For example, if the category of your site is Real Estate, but you are creating backlinks from irrelevant health-based websites, it would be taken as a bad or irrelevant backlink.
Google Panda Update.
Introduced on 24 April, 2012.
This algorithm is evolved to fight with thin or low-quality sites. It encourages the visibility of relevant and high-quality content so that search engines can deliver most appropriate results to a search query.
Primal Tasks of Google Panda to deal with :
Link Scheme

Keyword Stuffing

Over Optimization

Unnatural links
For example, above Real Estate website have copied content and provides irrelevant information then Google Panda will definitely penalize it by removing it from search results.
Google Pigeon Update.
Introduced on 24 July, 2014
Google developed this algo to improve local searches. Its primal task is to promote local listings in search results.
Primal Tasks of Google Pigeon to deal with :
Priority to local listings

Submitting Sitemap

Knowledge Graph-style search results

Reputation

Authority

Adverts on page
For example, when you search Real Estate Companies, you will see local companies in top results just because of this algorithm.
Google Hummingbird Update.
Introduced on 20 August, 2013
Hummingbird helps to deliver appropriate search results against the search queries.
Primal Tasks of Google Pigeon to deal with :
Understanding intent

Semantic Search

Response to the whole query

Meet relevancy
For example, if google for 'hummingbird', results will show information about smallest bird and google algorithm and so on.
Google RankBrain Update.
Introduced on 26 October, 2015
It is a part of hummingbird algorithm which was also known as machine-learning artificial intelligence. Here, machine-learning means, to make computer system enough capable, so that it can teach itself without any more human efforts or by detailed programming.
Primal Tasks of Google Pigeon to deal with :
Machine learning

Artificial intelligence

Machine processing
Most of the time people afraid of these algorithms without understanding clearly. These are  good things to keep everything on the track. If we follow the guidelines and avoid practicing naughty stuffs, we don't need to be worry.
Thanks for reading!
Image: Father disciplining toddler. (Sandro Di Carlo Darsa/PhotoAlto/Getty Images)