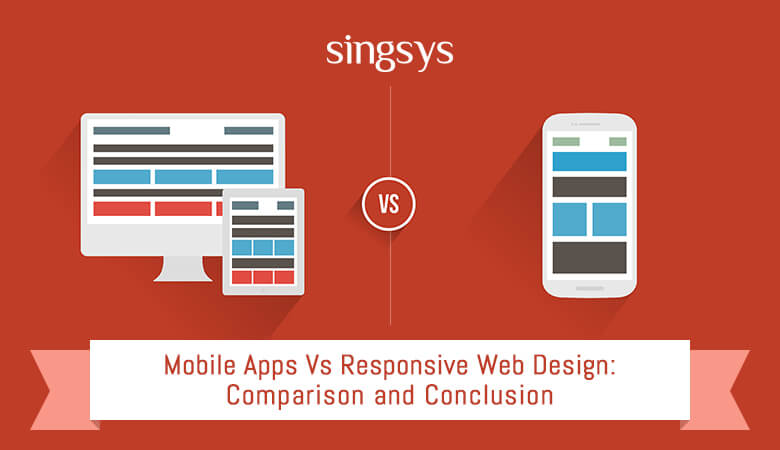 When you plan to establish a strong online presence for your business then very first question that pops up is, will a responsive web design do the job or users will be more comfortable with a mobile application. If you find deciding between a responsive web design and mobile apps confusing then there are pros and cons associated with both choices.

Mobile App or Responsive Web Design?

There are a multiple key differences between a mobile app and a responsive web design. Responsive web design refers to a website designed especially for mobile use. It will have a different URL and will display your website in a manner that is appropriate for mobile view.
Whereas, mobile apps are specific applications that are customized with respect to the Operating System (OS) that supports unique designs and codebases. Mobile apps are now a popular option for many websites are looking forward to ensure users a delightful experience.

The Pros of Responsive Web Design
Developing responsive web design has following benefits:
Cost: Development of responsive web design is comparatively inexpensive than designing a mobile app from scratch.
Single website: It's quick and easy to monitor just one website for every device.
Single URL: It will ensure that users can easily locate you over mobile devices without waiting for any redirects and this is quite helpful for slower networks
SEO is easy: There is no requirement to create mobile device specific content and at the same time you can have the benefits of your desktop website SEO over mobile devices
Instantly Available: Unlike mobile apps, a responsive website need not to be downloaded from app store before it can be accessed. This generates a barrier between initial level engagement and action.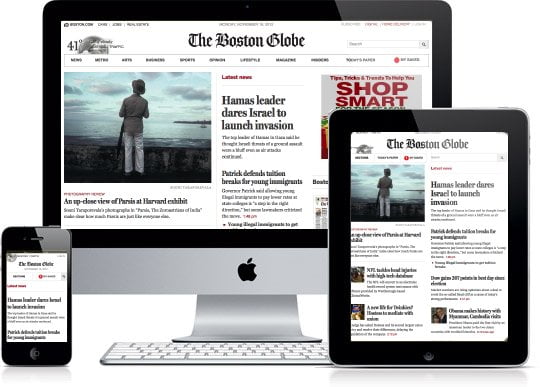 Courtesy: thinkapps
The Cons of Responsive Web Design:
Poor Performance on mobile device: Responsive web usually suffers from poor performance over mobile devices as images and other animations are quite heavy. Not to mention users will be required to download full page including all the elements to view the page and this is a battery and time consuming process.
Technical: Since responsive web design is quite new technology and there are few outdated devices with old browsers which will load the website not only slowly but also not completely.
User Experience: Mobile is totally different experience than desktop and even though it is responsive it can harm the overall User experience on both the platforms. Trying to satisfy both desktop and mobile users with same user interface may result in satisfying none of them

The Pros of Mobile Apps:
Better Performance: Mobile apps solve the issue of slow loading time as web elements are designed specifically mobile performance in mind. Therefore, they are are light, fast as well as ensure a better user experience.
Security: Security is another benefits of mobile apps against responsive website .When users connect with a business on behalf of Internet they are exposed to potential threats from hackers. when they use the mobile app the business is able to handle the connection without intervention of any third party thereby limiting the exposure and saving users.
Courtesy: thinkapps

The Cons of Mobile Apps:

Accessibility issue: An app is built for a specific operating system so it won't operate on device that supports a different operating system
Update wait: updates in an application is required to be submitted and approved every time by app store and sometimes it can take several days. user wont like these frequent updates that arrive after so much wait rather they will prefer to stick with older version of the app
Cost: Mobile app development is an expensive affair that might not suit everybody's budget.
Marketing and SEO: A totally different marketing strategy will be required for promoting your mobile app and this will require assistance from help from a mobile marketing professional.

Conclusion
Responsive web design is a popular and powerful tool that is responsive in certain situations yet it is not an ultimate solution. The unprecedented growth of mobile apps will keep "app vs web" question remain alive for business organisation keen on ensuring a mobile presence. When the mobile goals are basically marketing-driven or if you want to deliver content and establish a wide mobile presence that is easy to maintain and share between users as well as found on the search engines then the a mobile-friendly responsive website should be your obvious choice.

Whereas, if you are looking forward to provide an engaging user experience than a usual desktop or your strategy involves access to user's phone's storage and other basic functions then mobile app will suit you best

I personally would suggest you to clearly analyze and understand the purpose of your product like who will use it and how often will they use it before choosing the right option for you.

A user-oriented solution on cutting edge technology to engage customers or boost your brand to eventually edge out your competitor and realize the potential and importance of latest online business solution in various domain to ensure stability and rocket sky the ROI. Singsys boasts best-fit developers, designers that were key to partner with multiple Fortune 500 firms to deliver industry oriented web, mobile and e-commerce solution always.

You may be interested in reading :