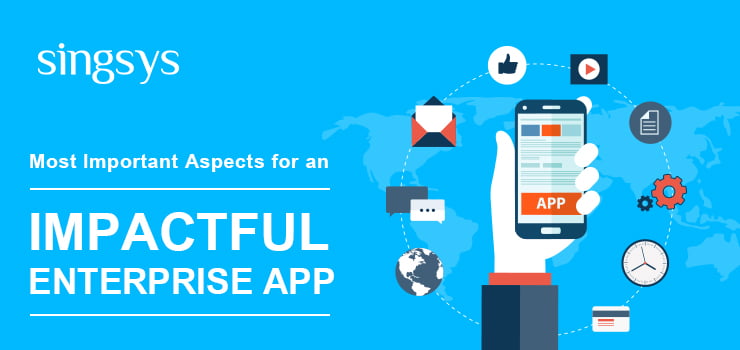 Enterprise applications refers to display, manipulation, and storage of huge amounts of usually complex data and complete support or automation of business processes with that data. Design and development of an enterprise applications is to satisfy hundreds of individual requirements.

These requirements are complex and difficult to understand and the failure to meet any of these requirements can mean the failure of the entire project.
Let us discuss important aspect that are important for great enterprise app.
1- Multi-Level Authentication
When there is danger of attackers behind your app then simply password based authentication won't save you completely. It will require multi-level authentication to ensure foolproof security. In this system user is supposed to provide code send on their mobile device. In this case even if password is revealed then also access will be granted only after code is also submitted
2- Prevent Insecure Data Transmission
Data is most valuable asset for every company or business hence it demands a high level of security too. In case of an application security is assured by encryption yet almost one-third of IT companies currently don't use any kind of encryption methodology to ensure the security of apps. It is highly recommended to implement appropriate security method and prevent data transmission entirely.
3- Limit Data Caching Vulnerability
Cache data is highly prone and easily accessible by hackers. This serious concern can be resolved by limiting and vulnerabilities related with it. Adding new password access to the app will resolve the problem or the app can also be programmed in a manner to enable erasing of all the cached data on device restart.
Hopefully, above insights  will be helpful in initiating an interest towards most crucial and unignorable aspects to be considered for development of great enterprise app.
A user-oriented solution on cutting edge technology to engage customers or boost your brand to eventually edge out your competitor and realize the potential and importance of  latest online business solution in various domain to ensure stability and rocket sky the ROI. Singsys boasts best-fit developers, designers that were key to partner with multiple Fortune 500 firms to deliver industry oriented web, mobile and e-commerce solution always
You may be interested in reading :