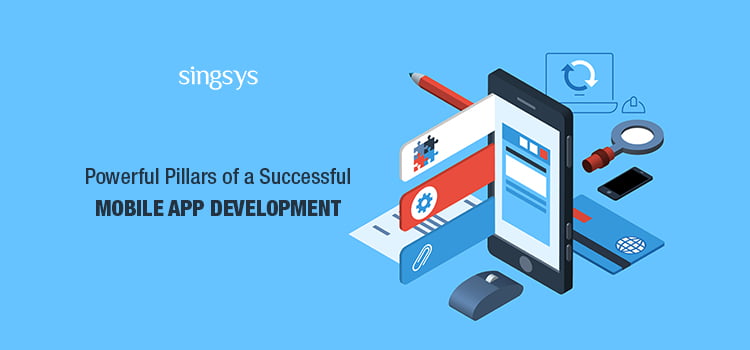 Simplicity and utility is the strong reason behind success of popular mobile application irrespective of the domain to which it belongs or the audience group it is being target. Apart from few great mobile application most of them suffer from complex architecture or focus on something more than they should focus on right functionality. Creation of excellent business mobile app is key to brand visibility and business growth in quick manner and with less efforts.
There are mostly three broad categories when it comes to mobile apps development
Functional Apps

Entertaining Apps

Brand/Product enhancing Apps
In order to kick-start development in any of the above mentioned categories it is necessary to have five powerful points in mind
1.User Expectations
It is mandatory for the developer to have a fair idea about audience this is important because simply cloning the existing app is not going to work. The basic requirement of a mobile application is highly based on user behaviour. An app should focus on voice navigation if it is intended for field service worker but an app for businessmen should let him customize it as per business requirements. Analysis of the target audience is the first step before designing the app.
2.Task Specific
Mobile applications need not be the jack of all trades.  The best apps easily define the right data and perform the right transaction based on location, network quality and business domain. Uber app is an example of great app that displays information and task relevant to driver and customer in different phases.
3.Impact
Although the number of app downloads is considered as an important parameter but it isn't true reflection of success. It is necessary to define success metrics and add various metrics into the app via including analytics to track these metrics. Now it is the job of business team to update the metrics as per requirement. The major success metrics need to calculate increase in orders, reduction in time to complete the task and improvement in accuracy of data collection.
4.Process
There are two important parts for mobile app developed for business. The primary phase focus is on app development and secondary phase is all about delivery, security and maintenance of the app. It is recommended to focus on those single tasks that are crucial features of the apps. The leading mobile app development team dedicate time towards  "a day in the life" of the user to identify the behaviour and understands the workflow. As the design phase of mobile application is also an equally important factor hence, it is recommended to support the mobile app life-cycle in full-fledged manner.
The bottom line is users are looking forward to an amazingly fast user experience whenever they launch a mobile application.
About Sing Sys Software Services: It is an established entity in continuously expanding sphere of mobile, web and e-commerce solution development. Headquartered in Singapore with its offshore arm in Lucknow. The Sing Sys is hub of certified developers who are passionate about leveraging the industry trends and implementing it to best in all the projects. We implement cutting edge technology and strategic expertise to design custom mobile, web and e-commerce applications to engage customers in this highly dynamic and diverse environment.
You may be interested in following