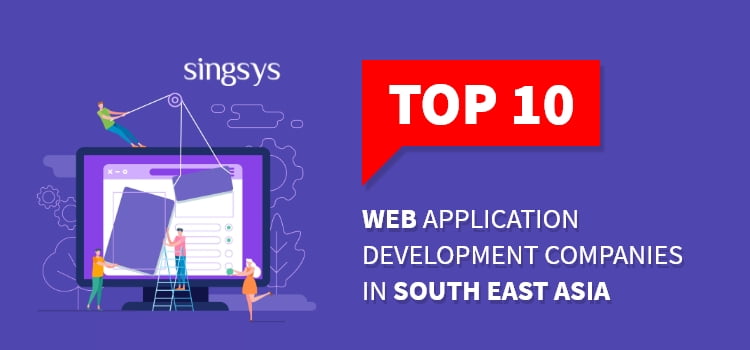 Southeast Asia has numerous website development companies and all of them claim to be best but, does all of these qualify the parameters to be trusted for website design and development. Well, only a bunch of them are actually apt for it.  Experienced website developers and designers passionate to go an extra mile play a crucial role in the development of the user-friendly web app to connect with users and convert them into customers.
Web apps have emerged as the most cost-effective business solution when it comes to global expansion of your business. Every business owner need to consider some key factors that differentiate an extraordinary website app development company from rest of the league.
These top 10 website design and development agencies in Southeast Asia will provide you with every type of website ranging from e-commerce, news, fitness, sports, dating, finance, travel, music and more.
I hope every dimension is covered if one comes to your mind that is missing here, then you will get a website for that too don't worry.
Upon intense research and analysis with an unbiased and transparent mindset, I have drafted the list of most trustworthy top 10 website design and development agencies in Southeast Asia that are at present killing at it.
Singsys is one the most sought-after website development company in Southeast Asia that boasts a strong team of web app developers who are behind the development of custom web apps for Fortune 500 firms. Rich experience of 10 years and cutting-edge technologies to design user-friendly and highly functional websites that are boon for client business.
Their web app development expertise has been reflected in various industry verticals like  law, logistics, real estate, beauty, finance,social networking,education & career, tour & travel, dating more. Singsys developed web apps for small, medium and large enterprises.
Why is Singsys among top 10 web app development company in Southeast Asia  
They have partnered with Singapore Public Utilities Board, Singapore Tourism Board, Changi Airport Singapore.

Largest pool of developers who expertise over all latest web app development technologies.

Quality Assurance with ISTQB certified testing professionals.

Diverse portfolio to impress business owners.

Focus is on the agile mode of programming.

Client data security assurance as per the best industry standards.

Future-ready design and cost-effective app development.
The Organization is systematically organised into various teams to streamline development process who specializes in development of the custom website to deliver best only business solution by providing end to end services.
Olympus, Singtel, KPMG, InGram, Oaks, Tueetor are few leading brands in Singapore who have recognized Singsys technical expertise along with business acumen and partnered with a decade old web app development company to give their business a new dimension in the online arena.
Business owner do you know:
Singsys develop Website to transform your Business into a Brand
Well Singsys is also at the top among top 10 web apps development companies in Singapore
Year Founded – 2009
Size – 200+ employees
Expertise – Website Development, eCommerce Store development, Mobile Application Development, React Native App Development, and Digital Marketing
Jump is a website design and development company based in Hong Kong. They rely on highly competent and reliable team of in-house designers and developers with in-depth knowledge and creativity to make  brand centric websites using cutting edge technologies. They have successfully delivered web applications that have helped startups and established enterprises to maximise every business opportunity.
They are professionals who believe in providing a realistic timeframe for website development and enable client with required tools to monitor status of development. Their passion, knowledge and creativity keeps them at the forefront of the website design and development.
Year Founded – 2002
Size – 11- 20 employees
Expertise – Web Design and Development, Web Hosting, Branding, Graphic Design, Digital Marketing, App Design and Development, Email Marketing Services, Print Production.
A website design and development agency with 8+ years of service and 1000+ satisfied clients that encompass all business size be it startup, SMB or an enterprise. Their high level of customer satisfaction is reflected in terms of 50% customer retention rate who are happy enough to get their services again. They adhere to industry standards and follow best practices to ensure quality driven websites development.
They strive really hard with various testing tools to ensure website development is free of bugs and highly functional.
Year Founded – 2005
Size – 51-200 employees
Expertise –  Web Design, Mobile Design, IT Consulting, Enterprise Software Development, Enterprise Ecommerce, Cloud Apps,Content Management Solutions (CMS), Software Development.
They take pride in developing beautiful & robust websites for every device. They are equipped with developers and designers who are highly skilled in developing any form of web application be it an e-commerce store, an enterprise website and a blog.
12 years fueled by creativity makes Design Candy one among the most creative website design and development agency in Southeast Asia who expertise in cutting-edge technology to deliver right web solution that is custom built as per the client's business requirements. They love everything about website design and online business.
Year Founded -2014
Size – 1-10 employees
Expertise – Web Design, Web Development, Copywriting, E-commerce, Front-end development.
Let's Nurture Infotech Pvt. Ltd. is an IT outsourcing company with string presence in and outside Southeast Asia. They have successfully delivered 1500 projects to 200+ clients encompassing more than 20 countries . The inquisitivity to develop and design innovative website with new concepts enable them show up with stunning websites that reflect strong online presence of client business.
They are highly motivated to develop industry leading IT solutions  to transform customers​ dreams into reality.
Year Founded – 2008
Size – 51-200 employees
Expertise – Web Design and Development, Ecommerce Development, Search Engine Optimization, Mobile Applications Android / iOS, Social Media,  Online Reputation Management, Healthcare solutions, Beacon Development, IoT solutions.
Ranosys is among the highly experienced IT solution provider in Singapore, Southeast Asia. They boast about their PMP certified project managers and ability to implement the agile delivery model. Outside Southeast Asia, their development centres are present in London, and San Francisco Bay Area.
The key clients of this website design and development agency include Singapore Post, Singtel, Ministry of Education – Singapore, Parkway Healthcare, Charles & Keith, SBS Transit, NTUC, and National University Singapore (NUS).
Year Founded – 2008
Size – 201-500 employees
Expertise– Enterprise eCommerce Solutions, CRM Solutions, iPhone Apps Development, Healthcare IT Solutions, Android Development, OutSystems, Salesforce, Magento Commerce,eLearning and Education Solutions.
7. DMI (Digital Management, Inc.) 
DMI, the world's first end-to-end mobility company, equipped with right skill set and eagerness to deliver web enterprise solutions. Their integrated approach helped them expand the client base globally including Fortune 1000 commercial clients.
Year Founded – 2002
Company size – 1,001-5,000 employees
Expertise – Digital Strategy, Enterprise Mobility Solutions, Enterprise Website development ,IoT.
Octal software is an eclectic combination of creativity and techno-savvy. design and development of website by professionals to ensure a strong online presence of the client business. Other than Singapore in Southeast Asia they also have offices in UK, USA and India. Their immense knowledge and expertise in ASP.Net, PHP, Java , Node.JS, Angular JS, Laravel help them develop custom web solution as per client business requirement.
Year Found – 2004
Company size –150+
Expertise – Functional eCommerce Web Development, Web Portal Development, Business Application Development, CMS Development and Responsive Web Design Services.
QSoft Vietnam has emerged as one of the leading Software Development and Website Design Company in Vietnam. It is a CMMi Level 3 Certified Company. Their expertise in Laravel, Magento, PrestaShop, Zend Framework 2 is key behind the development of high-end website including flash animation in order to boost user experience by increasing the interactivity and usability.
Year Founded –  2005
Size – 51-200 employees
Expertise – IT Staffing and Sourcing,Digital Transformation Consulting, Software Development, UI/UX Design, Business Intelligent.
10.CREATiVE Web Studio
A full-fledged web design & development firm. They develop web design, web portal, web application, print, identity and e-commerce solution. The passion of its five founders have helped CREATiVE Web Studio to evolve into a leading website design and development in entire south east asia region with strong client base in Myanmar.
Year Founded – 2005
Expertise – Website Design and Development, E-commerce, Search Engine Optimization, Identity & Branding, Social Media Marketing.
This is the unbiased list of most reliable 10 website design and  development companies in Southeast Asia on which you can truly trust to get a custom website or e-commerce store developed and expand your business in less time as well experience an abrupt increase in ROI.
I hope now you will not be confused anymore to choose the most suitable website design and development agency in Southeast Asia that is apt to develop custom website in various industry domains for ensuring a smooth user experience that is key to grow business globally like a boss.
You are most welcome to share your views on top 10 web app development companies in Southeast Asia.
You might be interested in following: