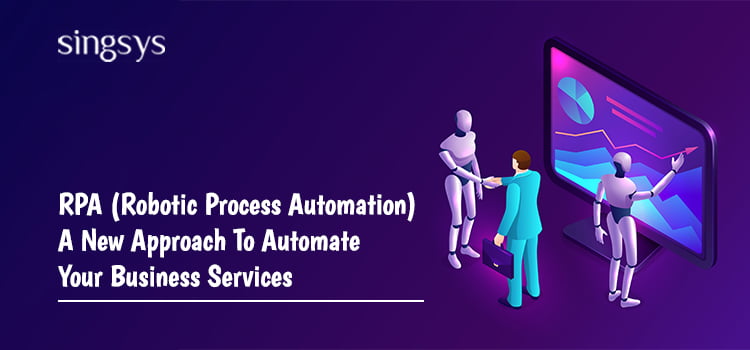 Robotic Process Automation is the business process automation technology based on artificial intelligence and machine learning. It enables software configuration and integrates the actions of a human interacting within digital systems to execute a business process. RPA bots utilize the Graphical User Interface(GUI) to capture data and manipulate applications the same way you do.  They perform a vast variety of repetitive tasks- everything from extracting data to making calculations and keeping records.
RPA is the future of automation technology, allowing businesses to reduce operating costs by performing repetitive, high-volume tasks with zero error rates. Some of its benefits are:
1) Cost Reduction: RPA helps in the production and operational cost reduction and improves efficiency, visibility, and control through process standardization without compromising with quality.
2) Better customer experience: Customer Experience is a huge KPI for every business and this technology enhances the customer experience due to accurate and timely process delivery. It eliminates human errors and thus, improves customer satisfaction.
3) Lower operational risk: Robotic Workforce lowers downtime risks as well as adhering to process by automating tasks linked to compliance checks.
4) Reliable: Robotics Process Automation is a form of resilient, scalable and reliable technology to make it viable for the use of business organizations.
5) No need to set up API before using RPA tools: RPA has its own Graphical User Interface(GUI) which is easier to use and needs a minimum amount of technical knowledge. Thus, It has an accelerated and readily available process for interacting with the application.
In contrast to traditional IT solutions, RPA is a quick fix solution as it stays in the front-end of the system and moves forward with the task, without having to intrude on the back-end. It is intuitive to use, allowing business users to create bots on their own and achieve higher ROI in a matter of days.
Industries That Uses RPA
RPA – Robotic Process Automation – is a set of tools for all types of industries and businesses to relieve human workers from repetitive tasks. It follows human interaction with a computer interface, such as a CRM system, spreadsheet or website, to automatically input data, collect and file information, and generally execute multi-step processes.
1) Business Process Outsourcing
RPA is used for Business Process Outsourcing (BPO) organizations enabling reduced costs, improved SLAs and operational flexibility, and increased capacity.
2) Retail Industry
The retail industry involves lots of processes for automation with RPA. In eCommerce, it can be used to manage alteration in orders, shipping statuses and updating customers regarding their expected delivery.
3) Financial Services
RPA can quickly automate data validation in banking applications as well as customer account management, confirming appointments with customers, form filling, reporting and financial claims processing.
4) Healthcare
Healthcare industries are using RPA to reduce administrative burden by automating healthcare processes, including patient registration, confirming appointments, processing, billing, and claims processing.
5) Manufacturing
RPA helps to strengthen the supply chain procedures, automation of logistics data such as quoting and invoicing for certain suppliers, as well as data monitoring and managing accounts.
6) Telecom
RPA improves telecommunication, by collecting and consolidating data from client phone systems, extract data about phone manufacturing information, and more.
7) Insurance
RPA helps insurance sectors to streamline their business processes and increase their ability to take on more clients by automating a number of operational activities, like data entry, legacy applications, regulation, and compliance maintenance.
Robotic process automation offers the ability to automate business processes quickly and easily, eliminating human intervention, while simultaneously providing a wealth of business intelligence that has never been available before. Singsys has countless renowned customers in its portfolio, including Singtel, Delsey, Samsung, Cisco and many more. Through RPA, we offer a fast and efficient way for businesses of all sizes to empower their employees by automating repetitive and monotonous tasks. Singsys also provides CRM for your businesses for enhancing the customer relationship through managing customer interaction, tracking leads, and streamlining processes.
If you're looking for RPA solutions for your business processes with end-to-end automation, we are happy to help.