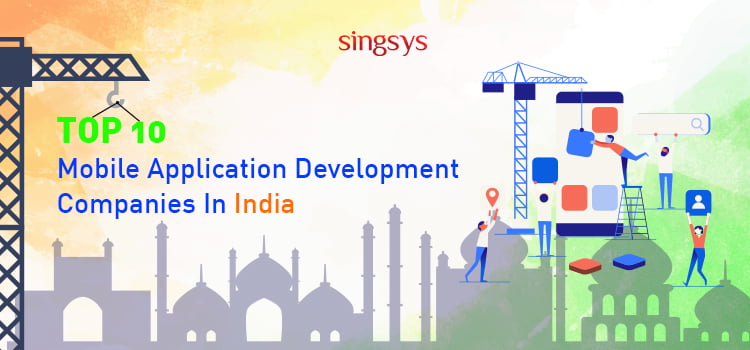 India is behind only USA in term of quantity and quality of mobile app developed on the planet. The technical expertise and pace at which mobile app market place is growing will certainly outrank USA very soon.
In 2020… There will be a widespread belief that the World Wide Web is less important and useful than in the past and apps are the dominant factor in people's lives." – PewResearch Internet Project

Below is the list of best mobile app development companies in India that have been chosen based on their expertise and experience in latest and best framework for mobile app development like React Native, Flutter and more.
Another important criterion defining their credibility is customer reviews, portfolio in different industry domain and work culture that sets them apart from rest thousands of mobile app development companies in India.
Singsys – Transforming your mobile app ideas into real working mobile app
Singsys is a mobile app development firm with high level expertise and a decade of experience in Mobile App Development. They believe in customising mobile apps as per clients requirement to ensure complete client satisfaction.
Their mobile apps are marked with quick load time, responsive UI and are user friendly.
Singsys has partnered with various  Fortune 500 and startup companies companies in various industries and leveraged their technical expertise as well as followed best mobile app development practices to ensure a bespoke business solution in form of mobile apps both native and cross platform.
Another interesting point that makes them suitable to top the list of top 10 mobile app development agencies in India is their passion to go an extra mile to design and develop custom mobile apps within promised time frame.  
Singsys an IT firm as foundation of your Ideas into Mobile apps
Foundation Year: 2009
Company size: 51-200 employees
Speciality: Mobile Application Development, Flutter App Development, React Native App Development, eCommerce Store development, Website Development, Digital Marketing,
MacAppStudio – Your dream to reality. In any platform
MacAppStudio is indian mobile app development company with overseas presence in USA. It believes in adding life to client ideas with help of world's most proficient mobile app developers who won World Wide Developer Challenge thrice.
They are in the list as they follow a rapid application development framework to considerably reduce the app development time by 25%. Their clientele includes companies like AT&T, intel, Cognizant, WIPRO, Scientific Atlanta, Phone Fit, Time Warner Cable, and Cisco.  
Foundation Year: 2012
Company size: 51-200 employees
Speciality: App Development, Mac Apps, UI/UX Design, Digital Learning Platform, Website Development, Cinicloud Platform, Happy Retail Platform,
Konstant Infosolutions – CLIENT-CENTRIC INNOVATIVE MOBILE & WEB SOLUTIONS
They have very modern and strategic approach towards project management that helps them streamlining the mobile app development process with maximum efficiency and ensuring 100% client satisfaction.
Konstant Infosolutions one of the top mobile app development companies in India with vast experience of working with hundreds of clients ranging from startups and small-medium enterprises to the top brands.
They claim to have developed and delivered the most appropriate business solution as much as 5 times faster than their competitors which helped clients towards more ROI in less time.
The best part about this mobile app development firm is they are open to new and innovative ideas from client for adding more value to client business. They have some esteemed clients like NASSCOM, Volkswagen, Del Monte, Wonder Cement, PACEfunding, and Raytec in their clientele.
Foundation Year: 2003
Company size: 51-200 employees
Speciality:  Mobile Web Design, Custom Web Application Development, OpenSource Application Development,  iPhone/iPad Applications, Web Design, WordPress Design & Development, Android App Development,  Magento Ecommerce Solutions, Joomla & Drupal Development, PHP/.Net Development.
Hyperlink Infosystem – Top Mobile App Development Company
Hyperlink InfoSystem is renowned to be one of those mobile app development company that believes in developing innovative apps with high-end UI to ensure immersive user experience.
Apart from mobile apps they also do website development, Game Development, AR-VR Development, Blockchain Development and even more.
They made to this list also due to their being awarded as Top Mobile App Development Company by Clutch for last 5 years in a row which is the result of commitment, competitiveness and strong growth. It is also an ISO 9001:2008 certified company as well as a member of GESIA (Gujarat Electronics & Software Industries Association).
Foundation Year: 2011
Company size: 201-500 employees
Speciality:  Android app development, iPhone app development, Mobile App Development, Website development, Wearable App Development, Windows app development,, Augmented Reality, Virtual Reality, and Blockchain Development.
Hidden Brains – Enterprise Software & IT Consulting
Hidden brains is another one of the leading Enterprise Software and IT consulting company with a vast experience of 15 years. Their technical expertise enabled them to provide solution from enterprise apps to customer centric app and even multiplayer games.
Some of the innovative products developed by hidden brains include Configue.IT (Rapid Mobile App Development Platform), CONTROL ANY(IoT and M2M enabled Automation Product) and RockEye( a 3D Seismic Visualisation Solution).
They have developed mobile apps in various industries ranging from Manufacturing to Media & Entertainment, Retail to Real Estate and even more using the cutting edge technologies.
Foundation Year: 2003
Company size: 201-500 employees
Speciality:  Mobile Application Development, Web Development, Graphics & Multimedia Solutions, Enterprise IT Solutions, IT Consultancy, Embedded Solutions, IoT, Wearable App Development, AR/VR, Big Data Analytics, Game Development, Cloud & DevOps, Cryptocurrency,Blockchain Development, and Quality Assurance Services.
iMOBDEV – Top Web & Mobile Application Development Company for Your Business Success
iMOBDEV is an ISO 9001:2008 certified company with highly skilled mobile app developers who are ready to take on any level challenge in every industry domain. They are one of the finest mobile app development company to turn imaginations into mobile and web apps in India as well as share good reputation overseas, especially in USA and UAE.
If you are keen on giving new heights to business then this mobile app development agency will provide you with a competent team of developers who put their best efforts to deliver a world-class level mobile app development services.
Foundation Year: 2009
Company size: 51-200 employees
Speciality: Android Application Development, Web Application Development, Cross platform mobile app development, iOS Application Development, Windows phone app development, UI/UX Design, ASO, PHP WordPress Web development,  eCommerce web development and Mobile Game Development.
ValueCoders – Indian IT Outsourcing Company for Offshore Software Development Services
ValueCoders have full focus on providing best in class offshore software development services. They have a vast 13 years of experience for app development in different domains of the industry. During this period they have partnered with various startups, enterprises, software product development firms and digital agencies to provide solutions that build business and significantly reduce the costs/time-to-market.
Their recipe of success is based on Truthfulness, Transparency and Collaborative Approach. ValueCoders software developers have been adding value to business on behalf of their domain knowledge, competent methodologies and tech expertise.
They have served 4200+ professional level cost-effective business solution from enterprise to government bodies. They are also recipients of NASSCOM IT Emerge 50 (Growth) award.
Foundation Year: 2005
Company size: 201- 500 employees
Speciality: Offshore software development, IT outsourcing, Mobile Development, IT Strategy & Consulting, Web Development, Python Developers, PHP Developers, IoT Developers, Machine Learning Developers, Artificial Intelligence experts, Dedicated Developers.
PixelCrayons – India's Most Trusted IT Consulting, App & Software Development Company
PixelCrayons is one of the most innovative mobile app development company in India. They have served high-end business solutions to small business, agencies, and startups across the globe.  Apart from India, they have a strong presence overseas in USA and UK.
They believe in offering value for money than a low-cost solution differentiate them from other mobile app development companies in India. They have registered an impressive CAGR of over 70% in last 3 years. They are also awarded as NASSCOM Emerge 50 – Year 2011 for showing spectacular growth over the last 8 years.
Foundation Year: 2004
Company size: 201- 500 employees
Speciality: iOS/Android, eCommerce, OpenSource Integration/Customization, Java, PHP, eCommerce Solutions, Responsive Web Design, Magento, Drupal, WordPress.
SPHINX SOLUTIONS – We Serve To Inspire, Innovate & Evolve
An innovation led software solutions provider in India who have a team of highly skilled and experienced mobile app development squad always ready to implement cutting edge technologies in its best form and satisfy the client with customized mobile applications.
In only 7 years they have became an authority in Indian software industry. They follow a simple yet effective approach of developing mobile app that kick starts with Idea consultation then goes to app design phase followed by app development and eventually the app deployment.
Commitment, zeal, compassion and teamwork are the core values that help them work in their best format and deliver complete client satisfaction.
Foundation Year: 2004
Company size: 201- 500 employees
Speciality: Mobile App Development, Cross Platform Apps, Android App Development, iOS App Development, Windows App Development, Website Design & Development, E-Commerce Solutions, Web Applications, White Labelled Solutions,  Enterprise Mobility Solutions, Business Analytics.
Algoworks – Simplifying Technology – Smartly Disruptly and Globally
Algoworks is one of the finest mobile app development companies in India and deserve to occupy a spot among top 10 mobile app development company in India due to their below accolades.
Top Mobile App developers 2017 as per GoodFirms

One of the Technology Fast 50 award for 2013, 2014, and 2015 by Deloitte

Reliable Company Award 2017 by EXTRACT

Outstanding Website by WEBAWARDS

BEST COMPANIES To Work With in 2015 by SiliconIndia
They have a vast experience in the field of IT outsourcing and are renowned as most reliable outsourcing partner in terms of adding value for money to clients.
Foundation Year: 2006
Company size: 201- 500 employees
Speciality: Mobile App Developers – iOS | Android | Windows | HTML5 | Xamarin, Software Product Engineering, Salesforce Consulting and Customization, DevOps, Salesforce Cloud Alliance Partners, ECM Consulting Services, Alfresco Consulting and Customization.
I hope you will find this list really useful as the horizon of mobile app development companies in India has seen a sharp rise and experts view it as source of business generation in modern world.
Almost every company wants to be first to reach and engage its customers. If you want to outrank your competitors with power of mobile apps then let us help you with it. We have developed some revolutionary apps on latest mobile app development  industry and are eager to help turning your Business into a Brand
You can hire our developers using any of three flexible engagement models based on your feasibility and comfort.
You may be interested in following:
Top 10 Cross Platform Mobile App Development Companies in Singapore (There are two companies on Rank 1)