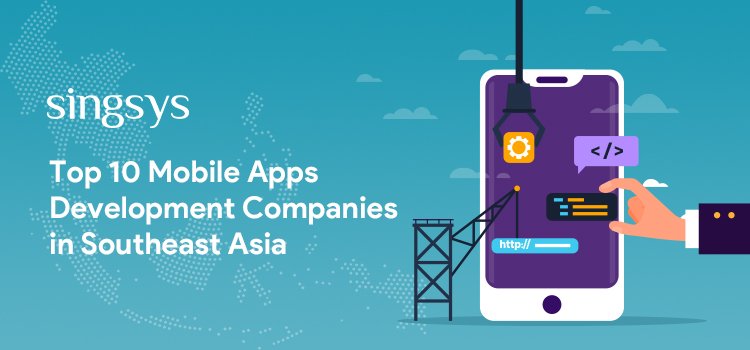 A feature rich, robust, and eye catching mobile app is what convince users to download and frequently use the app. The mobile app market place in Southeast Asia is diverse and dynamic. You will find Southeast Asia dotted with numerous mobile app development agencies and all will sound convincing but are they all worth developing mobile application that solves your business objectives as well as extend the bracket of your target audience to help you Earn Big Profit and eventually Edge Out Your Competitor.
Mobile App are Synonymous with Quick Expansion and Growth of Business
If you have an idea and want to convert it into successful business app then getting a mobile app developed for the same should be done by the best mobile app development companies in Southeast Asia.
After covering the  Top 10 Website Design and Development companies in Southeast Asia. Here is a list of of Top 10 Mobile App Development companies in Southeast Asia that enlists only those agencies that are not simply different but are really unique and worth giving a shot.
Singsys – Transforming your mobile app ideas into real working mobile app
Singsys is among the leading Mobile App Development Company in Singapore region of Southeast Asia. From startups to Fortune 500 firms trust them for mobile app development. Their technical expertise and industry knowledge fetched them few notable clients like OLYMPUS, InGram Micro, Singapore Changi Airport, and more.
What segregates them from rest of the mobile app development agencies is their willingness to go an extra mile for client satisfaction with custom built mobile apps that are robust, industry ready and backed by engaging UI for immersive user experience.
Ok you all might have observed why Singsys always top the list be it top 10 website development or mobile app development companies in Southeast Asia . Well, there is something that segregates them and it is as below.
It hardly took them few days only to expertise

flutter

and add it to their arsenal of mobile app development platform for cross platform app development.

Mobile apps experts who spent time even after official hours to ensure they are well versed with latest buzz in mobile app development technologies.

They are technically sound and have fair idea about audience behavior to justify what platform suits best for development of  mobile apps.

They are affordable in three ways of

engagement models

to hire resources  

Follow agile methodology for mobile app development that ensure high quality custom build mobile apps that are synonymous with high degree of customer satisfaction.

ISTQB certified Quality Analysts to deliver bug free mobile apps

.

Digital Marketing experts

who implement everything under the sun (Google) to ensure mobile apps tops the chart in the App Store and receives extra exposure for maximum downloads.
Foundation Year
2009
Company Size
51 – 200 employees
Specialities
Mobile Application Development(Native and Hybrid), Flutter App Development, Enterprise App Development,  Website Design and Development, Ecommerce Website Development, Logo Design, Product Design, Digital Marketing, React Native App Development,
MonsterLab – Your Strategic Development Partner
Monstar Lab Group is global agency for product development as it boasts of nine group companies majorly in various corners of Southeast Asia and one in UK. Their expertise is reflected through world class enterprise-level projects. They take pride in their strategic planning capabilities which is ideal and covers everything under the sun to achieve client goal. They have a great team of UI/UX experts who are well familiar with latest industry trends to ensure the best UI experience is delivered to the user.
Foundation Year
2006
Company Size
501-1000 employees
Specialties
Mobile app development, Mobile app design, Web development, Web design, CRM, HRM,  AI, Chatbot, Enterprise app development, Business applications, Mobile games, IoT.
Intelegain – A Digital Transformation Company
An outstanding mobile app development company with mobile app development as their forte. If you want your unique ideas transform into spectacular mobile apps that suits the business objectives then they will help you with high quality mobile app that add business value and enhance productivity as well. They have partnership with Microsoft Gold Partner, Amazon Partner and Intuit Development Partner.
Foundation Year
2003
Company Size
51-200 employees
Specialties
Mobile & Web App development, ERP Consulting (SAP/Oracle), Digital Marketing, Agile Driven Product Development, POS Apps Development, BI Consulting, QuickBooks Integration, UI/UX, Artificial Intelligence, Blockchain, Machine Learning,  Azure & AWS Managed Cloud Services/Migration.
ALPHAPOD – CREATING MEANINGFUL DIGITAL EXPERIENCES
Another remarkable mobile app development company in malaysia with professionals who are involved in development of user centric and mobile first approach to ensure an immersive digital experience. They have developed  native mobile apps for some of the world's leading brands like Shangri-La, Samsung, Allianz SE, Volkswagen, Ford, Johnny Walker, Tourism Malaysia, KFC, IBM, Guinness, Heineken and more

Foundation Year
2009
Company Size
1-10 employees
Specialties
Ecommerce Mobile Apps, Food Finder Mobile Apps, Service Based MObile Apps, Conference Mobile Apps, Bluetooth Mobile Apps, Sales Kit Mobile Apps, Mall Mobile Apps
Clarity – Your Reliable App Developer in Hong Kong
A well-established software design and development agency renowned for developing custom mobile apps that help startups to succeed and provides an opportunity to established business for further business expansion. It is headquartered in Hong Kong and their team consists of talented professionals across the globe including HK, Europe and China.
They have developed business solution for notable brands like Volume France, AXTER (Market Leader in Automated Guided Vehicles), and Fresenius ( World's leading  healthcare company from Germany)
Year Founded
2013
Company Size
2-10 employees

Specialties
Mobile application design & development and Web application design & development
SAVVYCOM – We Help Business To Move Faster
Headquartered in Hanoi, Vietnam is another great mobile app design & development agency. What makes them suitable to be on this list of top notch mobile app design and development companies in southeast asia  is 300+ successful projects with 100+ clients and maintained an amazing 92% retention rate since 2009.
They believe in working smartly with clients in a collaborative manner to achieve success. They have developed mobile apps for all major industries like eCommerce, health care, Educational, personal care and more from startups to SMEs.
I believe it is one of the most Award winning company in the list with below accolades to their fame.
VIETNAM 30 LEADING IT COMPANIES
TOP 25 GLOBAL APP DEVELOPERS, CLUTCH.
TOP BRANDS 2014
TOP DISTINGUISHED WORKPLACE 2015
They are also listed on clutch for being one of the top mobile app developers in 2017.
Year Founded
2009
Company Size
51-200 employees
Specialties
Mobile App Development, QA & Testing, Website App Development, AI & Machine Learning, Automated Software Testing,  Software Development, Cloud Computing, and Magento Ecommerce.
Creole Studios – MOBILE AND WEB APP DEVELOPMENT COMPANY
Creole Studios is a global mobile app development company with its offices located in Hong Kong, Singapore, and India which reflects their strong presence Southeast Asia. They also excel at providing services like web design and development, cloud app development and digital marketing.
They team of talented mobile app developers are equipped with cutting edge technology and believe in constant brainstorming to match the business requirements of client and develop best in class mobile apps.
Year Founded
2014
Company Size
11-50 employees
Specialties
iOS Applications, Android Applications, Website Development, Web Applications, Cloud Software Development, PHP Development, Designing UI/UX, WordPress Development, React JS Development, Angular Js Development, Node Js Development,  Software Consulting, Search Engine Marketing, Digital Marketing, and eCommerce.
NMG Technologies – Building Smart Business Apps for Complex
Believe in holistic approach of Understand , Build and Measure.  They uncover business process of client and suggest the best technology solutions to high end mobile apps that are scalable and robust enough to tackle future feature enhancement in business.
It's office is in Southeast Asia at Delhi, India but its off shore presence in Auckland, London, LA, and Sydney makes it a truly global software development company.  The notable brands which partnered them for business solutions include Nikon, Lenovo, Havells, Nasscom, Waterman Entertainment and more.
Year Founded
2005
Company Size
51-200 employees
Specialties
Mobile App Development, Mobile Design, Web Design, Ecommerce Solutions, Advance Website Development, Custom Software Development, Content Management Solutions ( CMS), Cloud Apps, Software Development, Dedicated Team Setups,

Ingenuity – We're Engineering Awesome
A philippines based software company developing world class apps in different industrial verticals upon variety of platforms. They are not only technically feasible to own a spot in Top 10 mobile app development companies in Southeast Asia but also due to strong belief that a well customised mobile app can change the world.
Professionals at ingenuity are determined about achieving perfection with every bit of code they write. Their success in mobile app marketplace can be contributed to the agility of their team which has technological enthusiasts and creative genius and deep thinkers.
Amazon, Accelerance and Google Partners are their esteemed partners who trusted their expertise for business solution
Codigo – We make life better with mobile.
A really strong in-house UI/UX and development team for customising high end mobile apps. Their passion about technology is reflected in terms of support for 7 startups and successfully running a UI/UX school. Their presence in Southeast Asia is in Singapore and Melbourne. They believe in implementing smart technology to the best to ensure the customer experience is always best. They received the "Best Designers in the Solar System"
Year Founded
2010
Company Size
11-50 employees
Specialties
Mobile Apps, User Experience, User Interface Design, iOS Development, Android Development, 2D and 3D Games, Backend Systems, Software as a Service, Responsive Website, Social Media and Community Management, Content Management System.
Above list is of mobile app development companies is updated for 2018 and  refined on behalf of important criterion like level of commitment by these most trusted 10 mobile app development companies in Southeast Asia,  timely project delivery, enough diverse portfolio that reflect their expertise to develop mobile applications in all the industry domains, and affordable prices. You can trust all of them and these are worth giving a shot for mobile app development.
You might be interested in: