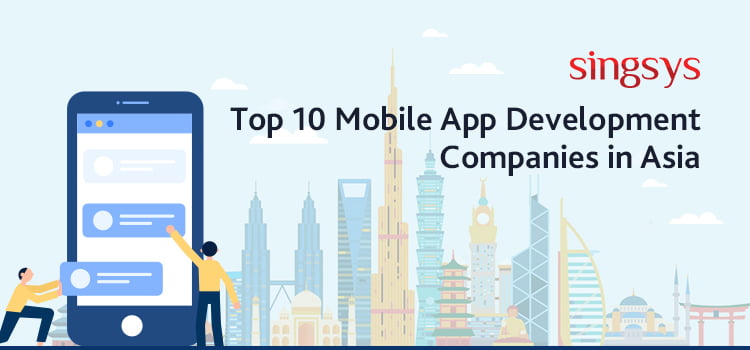 Asia is full of some of the world's best mobile app development companies that build bespoke mobile apps to exactly match the business requirements of their clients and further share their products, services, and vision with their target audience on a global level. These apps are also termed as enterprise mobile apps.
Enterprise Mobile Apps are Synonymous with Quick Business Success and Brand Building.
There are a whopping 3.7 billion unique mobile users in January 2018 (According to Statista,). These users will only increase and, increase the opportunities to grow business as soon as possible.
The hidden gems of Asia in terms of Mobile App Development are below
1. Singsys – Transforming your mobile app ideas into real working mobile app
Singsys is among the leading Mobile App Development Company in Singapore with a strong team of 200+ developers, designers and other professionals who believe in going an extra mile to meet client's expectations with custom built native and hybrid mobile apps with expertise in react Native, Flutter and more cutting edge technologies.
They have 10 years of rich experience in tailoring mobile apps that have captivating UI and are user oriented to ensure an immersive user experience. Their developer cum tech enthusiasts are updated with latest buzz in mobile tech industry and adapt it to develop out of the box business solutions.
Singsys Mobile App Development Agency in Singapore – Giving App to your Idea Since 2009
Foundation Year
2009
Company Size
51 – 200 employees
Specialities
Mobile Application Development(Native and Hybrid), Flutter App Development, Enterprise App Development, Ecommerce Website Development, React Native App Development, Open Source CMS, Website Design and Development, Logo Design, Product Design, Digital Marketing.

2. Contus – Spearheading  Hyper Converged App Development
Contus is India based mobile app development agency with a technology driven team of 200+ tech professionals. They started with Enterprise Mobile  Applications and and have evolved their tech skills to deliver complex business solution. They claim to have grown at a whopping 150% per year since its started back in 2008.
Foundation Year
2008
Company Size
201-500 employees
Specialities
Mobile Application Development, Enterprise Web and Mobile Application Solutions, Messaging Solutions, Mobile Commerce Solution, Mobile Application Testing.
3. OURSKY – We Develop Better Apps
A young and dynamic tema of 45 mobile app designers and developers in Hong Kong who are passionate about mobile apps that can rock the app stores with millions of downloads. Their expertise and customer service is reflected in terms of Hong Kong ICT Awards of the Year 2014 and Best of the Year app selected by Apple App Store.
Foundation Year
2008
Company Size
11-50 employees
Specialities
iOS Development, Android App Development, UX/UI Design & Prototyping, web Development, Software Testing.
4. Octal IT Solution – Custom App Development Service for your Unique App Idea
Headquartered in India Octal IT Solution also has good presence in USA, UK and Singapore. Reputed for delivering niche solutions it focus on quality driven mobile apps development. Till date it has gained technical associations with Microsoft, NASSCOM, Drupal, Amazon Web Services and more.
Their success story is filled with mobile apps that have raised millions of dollars
Foundation Year
2004
Company Size
51-200 employees
Specialities
Mobile Application Development, Enterprise Solution, Web Design and Development, Custom Software Development, Microsoft Solutions, Digital Marketing, SaaS Development.
5. Massive Infinity – Massive Ideas, Infinite possibilities
It is another Singapore based company with primary focus on mobile app development (iOS and Android). Their app development strategy is simple and efficient that include phases of Consult, Conceptualise, Constrict, and Conduct.
Foundation Year
2011
Company Size
11-50 employees
Specialities
Mobile Application Development, Mobile Games Development, Website Development, CRM Tools, Virtual Reality, Augmented Reality, Search Engine Optimisation Services, Enterprise Applications, Content Management Systems, Database Systems.
6. Appinventiv – A Creative Mobile Product Agency
Appinventiv is an indian mobile app development agency.They boast of a team of 320+ creative techies who contributed in development of 500+ mobile apps. They are versatile and have expert mobile app developers for every technology platforms. They are confident about their skills in development of cross platform mobile apps.
Foundation Year
2014
Company Size
201-500 employees
Specialities
iOS Development, Android App Development, iPhone App Development, Flutter Application Development,React Native Application Development, Enterprise Mobility, Internet of Things, Healtcare App Development, Wearable Technology.
7. Engineerbabu – Tech partners for Thrillophilia, India's #1 Travel app
It is an award winning indian agency with Victorian AIIA Awards to its name. They are specialised in building MVP for startups. They take client's rough idea and develop it into mobile apps at affordable cost by a quality driven team in less development time. Their products have been chosen in Y-Combinator 2016 & 2017.
Their clientele include Frankgreen (an amazing Australian Innovative startup), JustRide (Y-Combinator, Google funded), Thrillophilia (India's biggest travel marketplace), Wittyfeed: World 2nd Largest Content Company.
Foundation Year
2014
Company Size
201-500 employees
Specialities
Android App Development, iPhone App Development, Logo Design, Web Development, Outsource Project, Hire Freelancer.
8. Credencys  – Simple Solutions | Efficient Processes | Transformative Impact
They create business transforming mobile apps for business that are looking forward for global growth. The secret of developing great mobile apps is agile development approach and design driven approach by using latest trends in Cutting edge technologies.
Foundation Year
2008
Company Size
51-200 employees
Specialities
Mobile Application, Enterprise Software Solutions, Web Application Services, Cloud and Big Data

9. Appster – The App Developer for Startups & Challenger Brands
An Australia based mobile app development firm with a global presence in New York, San Francisco and India. They partner with startups to entrepreneurs for the development of 'groundbreaking' mobile apps.
Appster is Among the fastest expanding mobile app development agencies popular for developing several multi-million dollar startups. They also have a strong media coverage.
Foundation Year
2011
Company Size
201-500 employees
Specialities
iOS Development, Android Development, Product Management,Quality Assurance, Mobile Apps, I.P., UX, Prototyping.

10. Mindinventory – Top Notch Mobile App Development Agency
 A mobile app development firm with seven successful year of service to global clients. They boast off a team of 100+ tech enthusiasts who are equipped with latest technology to deliver state of the art mobile app for engaging target audience as well as these apps stand out from the rest.
Delivery 700+ projects as per the expectations of the client has rated them higher than their competitors.
Foundation Year
2011
Company Size
51-200 employees
Specialities
Mobile Application Development, Web Apps Development, Enterprise Mobility Solutions, Native and Cross Platform Expertise, Quality Assurance Services, Internet of Things.
Above list of mobile app development firms are segregated from the rest of the firms due to their development approach which includes below
Defining the problem that needs to be addressed by the mobile app.

Putting together their experience and expertise to find out user expectations and strategically develop features that can be smoothly used by users without making them think too much about using the app.

Covering all the mobile OS and platforms that target audience is most likely to use to ensure no business opportunity is missed.

Great UI for a unique user experience that delights the user.

Ability to develop cross-platform mobile apps that are affordable and are ready in less development time.

Expert level programming knowledge about Flutter, React Native and more. The ability to leverage this expertise by working as a team.

High ratings from previous clients reflecting a high level of customer satisfaction.
Hopefully, now you will not have to browse numerous websites to gather insights about best mobile app development agencies in Asia. Get a mobile app developed  by leading mobile app development companies in Asia and engage your target audience to expand your business before your competitors.
You may be interested in below
Top 10 Android Application Development Companies in Lucknow