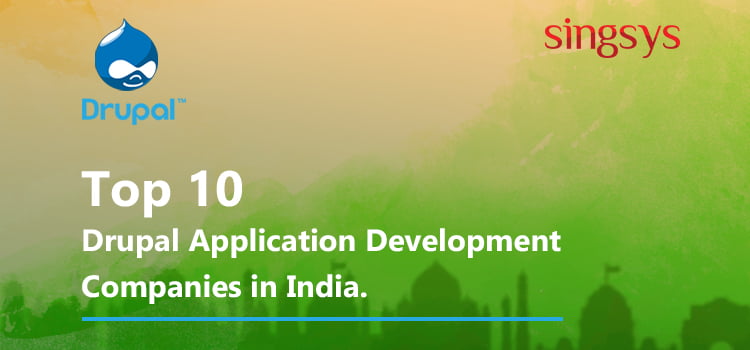 If you are looking for Drupal development companies then you have taken first step towards building your website using one of the best available content management system today. Here is the list of best Drupal application development companies in India.
1. Singsys
–
Full-fledged Drupal Application Development Service Provider in India
Singsys in India is capable of developing Drupal applications of all size with help of module customisation. Drupal developers at Singsys are highly skilled and have developed web applications for clients across the globe.
There competent Drupal developers develop web solutions that are capable of expanding client business reach on global level and help them stay ahead of their competitors.
They focus on best in class websites that are mobile responsive, scalable and robust. Developers at Singsys are capable of handling Drupal projects of all size and any complexity level.
They provide the following Drupal based application development services
Drupal CMS development

Drupal extension development

Drupal Theme development

Drupal website development

Drupal template development

Maintenance/Data migration
Foundation Year: 2009
Company size: 51-200 employees
Speciality: Drupal Website Development, Mobile Application Development, Flutter App Development, Website Development, eCommerce Store development, React Native App Development, and Digital Marketing.
2. Ezeelive
–
Drupal Website Development Services
Ezeelive in an Indian Mobile & Web Apps Development Company based in Mumbai. They offer professional level Drupal website development services. Their expertise in smoothly managing Drupal CMS is key in providing high end  drupal development services tailored to their clients requirements.
Their development process ensure client gets the top notch customized template at an affordable price. They do in depth market research to ensure website is right fit solution for the client.
Foundation Year: 2005
Company size: 11-50 employees
Speciality: Website Design, Web Development, Magento, Prestashop, Memcahe, Zen-Cart,, Drupal, Joomla, Varnish, Mamboo, CMS Builder, Oscommerce, Zend Cache Module, Sphinx,  Zend, Cakephp, Symphony, Yii, APC, Mailchimp.
3. GoodWorkLabs
–
Drupal Web Development Company Bangalore, India
GoodWorkLabs is based in silicon valley of India. The Drupal solutions developed by this company are modular, scalable, and highly secure as well as feature rich to ensure high level of performance. Their developers are proficient in developing drupal based websites for meeting various business needs of the client.
They will deeply evaluate business requirements to kick start development process in right direction and it is developed in less time as well as  cost effective. They follow agile methodology for result oriented websites.
Foundation Year: 2013
Company size: 51-200 employees
Speciality: Offshore Software Development, iPhone App Development, Enterprise Software Development, UX / UI Design, Ruby on Rails, Mobile Apps Development, Big Data, Artificial Intelligence, Machine Learning, Producting Consulting, Games Development, Android App Development, Internet of Things, AR / VR, Hadoop, Java,
4. Drupal India  – Reliable Drupal Development Services To Take Your Business To The Next Level
Drupal India leverage their Drupal expertise to serve clients with dynamic websites, blogs, forums, web portals and more based on Drupal. They focus on developing business oriented Drupal websites to exactly match client business requirements.
Being a responsible web app development agency they follow a result oriented work methodology that involves pre development analysis, workflow pattern, result oriented implementation and dependable support to ensure every need of end user is met with a fast, seo optimised and highly secure web solution developed by their Drupal developers.
5. Drupal Developers Studio
–
We Are Premium Drupal Development Company
Another great Drupal solution provider located in South India, Coimbatore with a strong team of 30+ Drupal experts who are passionate about developing custom Drupal solution from startups to Big enterprise. They have a team of dedicated developers who are ready to serve 24/7. They are capable of Python to Drupal 8 migration with multilingual feature.
They are capable of providing below services
Drupal Development

Drupal Migration & Upgrade

Drupal Module Development

Drupal Theme Development

Drupal Support & Maintenance

Drupal Ecommerce Development

Drupal Consulting
Their developers can be hired as per client comfort in form of hourly basis, per project basis and there Drupal developers are available for full and part time.
6. OpenSense Labs
–
Your Own Drupal Development Company
OpenSense with its office in Indian capital claims Drupal Development, Drupal 8 Migration, Drupal Staff Augmentation, Drupal Commerce, Drupal Personalization & CRO, and Drupal Maintenance & Support as their flagship services.
Their level of dedication can be sensed with compatibility check tool that find about is the current Drupal 7 website ready for migration to Drupal 8 and this is an interesting point about delhi based Drupal development company to get placed in the list of Top 10 Drupal application development companies in India.
Some notable clients in their clientele includes Men's Health, Farm Journal Media, ArtyWear, IIT Kharagpur, and MMGY Global
Foundation Year: 2013
Company size: 11-50 employees
Speciality: Drupal development, Drupal performance tuning, Drupal support & maintenance,  Drupal 8 Upgrades and migrations
7. Specbee
–
Web Content Management Solutions to Propel your Business
Specbee is a Bangalore based company powering digital experiences from last 3 years and strongly believes in delivering Enterprise Grade Drupal Solutions. Their Drupal developers have helped ambitious startups to multi-million dollar organisation extend their online authority by developing Drupal based web CMS and e-commerce solutions.
They have offered a well customised, highly scalable and robust web solution to some of the leading brands like Ericsson, Larsen & Toubro, Baldota, UX Magazine, Morning Cart, TCS, and Flipkart.
Being a leading Drupal website development company in India with good global presence, they have successfully developed some of the highly complex web applications and portals in a short period of 3 years.
Foundation Year: 2015
Company size: 51-200 employees
Speciality: Drupal development, Ecommerce enablement, Drupal CMS web development, Ecommerce platform, Ecommerce application, Enterprise Ecommerce, E-commerce mobile applications, UI/UX design, Subscription commerce, Content Management Systems, User Experience Design.
8. IkSula
–
We build and manage eCommerce experiences
Iksula is among the leading eCommerce solutions provider for various global brands. They focus on delivering a Drupal based solution in various industrial domains like Education, Sports, Finance, Hi-Tech, Governments and Non-Profits.
They have 150+ Drupal experts to work on global projects. They claim to be capable of developing live currency trading platforms to IoT based applications using Drupal. The Big brands who approached Iksula for business solutions include Big Bazaar, Sony and Netgear
Foundation Year: 2007
Company size: 501-2000 employees
Specialties: eCommerce Operations Management Services, Content Services, eCommerce, Omni-Channel, Internet Marketing Services, Technology Services, gency Services,
Another India based Drupal web development service provider offering Drupal solution on a global level.Their team of 30+ highly skilled Drupal developers have successfully developed 600+ Drupal solutions. They leverage their skills in Drupal for developing diverse type of websites like a blog, business website, web portal, and news website.
They tend to boost user experience by boosting the level of interaction with the multi-menu system, workflow tools, and add-on module in their Drupal application development. They believe in developing websites based on Drupal with user-friendly features and cost-effective.  
Foundation Year: 2008
Company size: 201-500 employees
Specialties:  Android Application Development, eCommerce Web Development, Native & Hybrid Mobile Apps, Website Design, Web Development, HTML/HTML5 and JavaScript Expert, iOS Application Development,  Mobile Application Development, SEO, and Open Source Development
10. IDS Logic
–
Delivering Valuable Drupal Solutions That are Highly Functioning and Easily Maintainable
Highly skilled drupal developers at IDS Logic have exhaustive industrial experience and have emerged as most reliable Drupal solution provider in India since 2007. Their Drupal applications are developed based on international level benchmarks for Drupal.
They are very focused on high end quality so it is perfect to meet client needs.
Foundation Year: 2007
Company size: 51-200 employees
Specialties: Mobile apps, Integrated web strategy,  CMS Development, business process automation, web design, website design, crm, document management system, Sitefinity, web hosting, web development, software development, outsourcing, internet marketing, seo services, search engine optimisation, web security, Moodle, LMS, and DNN
You May be Interested in Following: