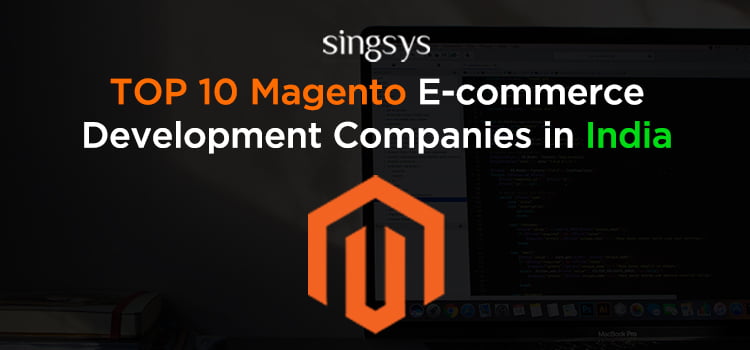 Magento is most sought after eCommerce platform that has greatly help merchants increase their sales figures with an online store that also serve the purpose of boosting their brand awareness among the target audience. Magento has revolutionised the way merchants can serve their customers.

India has more Magento eCommerce development companies than any other region in the world. This makes it really difficult to choose the best Magento website development companies in India. We are enlisting here some of the most sought after Magento eCommerce development companies in India based on their experience, expertise and passion to empower merchant with user friendly online store based on magneto that make selling easy, effective, and effortless.
1. Singsys – Official Partner of Magento Empowering Merchants with custom built  eCommerce websites
India's leading IT firm delivering Magento based eCommerce solutions with expertise of Magento certified developer and their Magneto Community Insider Program. Singsys has developed Magento solution in different industry niches and are passionate about taking client business to the next level.

They are now one of the most trusted Magento eCommerce solution development company in India. Their Magento solution are not only visually appealing to attract customers but are equally feature rich to ensure an instant boost in sales. Their unparalleled efforts to remain top notch Magento solution provider place them at the top spot for most sought after Magento eCommerce development company in India.
Foundation Year: 2009
Company size: 51-200 employees
Speciality:  eCommerce Store development, Website Development, Flutter App Development, Mobile Application Development, React Native App Development, and Digital Marketing.


2. Krish TechnoLabs – A Full Service Digital Commerce Agency
Headquartered in Ahmedabad, Krish TechnoLabs is an award winning Digital Commerce Agency. They have earned following awards and certificates that justify their place in the list of top 10 Magento eCommerce development companies in India.

Magento Master

Magento Certified Developer

Magento Enterprise Solution Partner

Magento Certified Developer Plus

Magento 2 Certified Solution Specialist

Magento Certified Solution Specialist

ISO 9001:2008 for eCommerce

Google Adwords Certified Partner

This company strongly believes in crafting the best possible eCommerce solution that is eye catching, feature rich, and conform to best industry standards. They have developed Magento based solution in domains like Health & beauty, Automotive, Consumer Goods, Fashion & Apparel, and Gems & Jewellery.
They are Magento Enterprise Solution Partner and have developed over 300 Magento solutions.
Foundation Year: 2003
Company size: 51-200 employees
Speciality: Hire Magento Developers, Magento 2, Magento Certified Developers,eCommerce, Magento, Marketplace Solutions, Design, Development, Integration, Marketing, Support, Managed Hosting,  Extensions & Plugins.


3. Tryzens – Experts in Ecommerce optimization

Tryzen is on a mission to improve the science and skills of online sales for their client. Highest standard of customer experience on behalf of meticulously designed Magento based eCommerce solution that is useful in generating maximum online sales.

They are Magento Professional Solution Partner and their eCommerce solution are robust and  scalable enough for easily accommodating any business requirement in future. They are particularly one of the trusted agency for advising about planning, building, running, and enhancing web solutions in Retail Industry.  
Foundation Year: 2004
Company size: 201-500 employees
Speciality: eCommerce, Magento, Smarter Commerce, Multichannel, Retail, Systems Integration, Consultancy, Technology, Professional Services, Integrations, Analytics, Web design, Fashion and Apparel, Salesforce Commerce Cloud
4. Wagento Commerce –A Full Service Web Development Company specializing in Magento Development

Wagento is another eCommerce solution development company from Ahmedabad. Their presence outside India is in USA, Mexico and Bolivia. Their services include Magento upgrade, Expert level Magento development, and Magento API development.

Their Magento development team is certified, experienced as well as well versed with Magento Core API, M1 to M2 Magento Migration, Platform Migrations to Magento, ERP System Integrations, Theme and Template Development and successful migration from Magento 1.x to Magento 2.x.

They are also Magento Enterprise Solution Partner.
Foundation Year: 2010
Company size: 11-50 employees
Speciality: eCommerce, Magento Upgrades, Magento SEO, Magento 2,  Customizations, Enterprise Upgrades, Community Upgrades, Site Migration, Cloud Services,Web Design, Web Development, and Digital Marketing.


5. Emarsys –Ecommerce Solutions Aligned with your Business Objectives

It is one of the independent marketing platform on the planet. Their Magento solutions are exclusively personalised for boosting client sales by building loyalty with end users.
Since their inception in 2001, they have put best efforts to ensure 2200 brands in 70 countries can easily reach with 3 billion customers on behalf of their result driven solutions.
They have a huge team of 750+ experts across 15 office in world. They are Magento Technology Partner.
Foundation Year: 2000
Company size: 501-1000 employees
Speciality: e-commerce marketing, email marketing services & solutions, SaaS, marketing automation, email social and mobile, and full service option.  


6. Sigma Infosolutions –Magento-based Solutions that ensure Exceptional Experience and Optimum Reach

Sigma Infosolutions have offices in Bangalore and Ahmedabad. They have over a decade of experience in e-commerce domain. They also have Magento Center of Excellence(COE) and have developed about 150+ Magento based online store to help client expand their reach and revenue.

Fintech, Online Retail, Technology and Telecom are the industry where they have served excellent eCommerce solutions.

They are Magento Business Solution Partner.
Foundation Year: 2004
Company size: 201-500 employees
Speciality: CRM, Magento, Drupal, eCommerce, Web/Application Development, Business Intelligence & DataWarehouse, Product Engineering, FinTech, Mobile Engineering, .Net, iOS, Android, Ruby on Rails, Social Engineering, Java, Grails, PHP, Pentaho, JasperReports, and Openbravo.
7. 247 Commerce –World-Class Ecommerce Solutions

Based in Bengaluru 247 is another miraculous Magento solution provider in India who are also Magento Business Solution Partner. They offer a well designed, technically advanced and well optimised Magento based eCommerce store on behalf of their years of expertise in eCommerce domain that is apt for an instant boost in sales.

They stand a chance to be one in the list of Top 10 Magento eCommerce development companies in India as they have 30 Magento certified developers to make the client happy and satisfied with Magento website that is exactly serving the business purpose of the client.

Their Magento solution features highly customised integration of ERP, WMS, CRM as well as other innovative features.
Foundation Year: 2011
Company size: 11-50 employees
Speciality: Multi-Channel Marketplace eCommerce Platform, Magento 2 Platform Builds, Magento Migration, Omnichannel Retail, eCommerce, Magento Solutions, eBay Integration, Amazon Integration, Online Store, eCommerce Website, eCommerce Integration, Design and Software Development, EPOS Inventory and Order Management Integrations, Amazon Web Services Development and Consultancy, Courier, Shipping and Logistics Integrations, Navision, Print-on-Demand, and Ticketing Kiosks
8. Echidna –Your Journey is Our Journey

Echidna is a digital system agency where experienced eCommerce professionals primarily focus on helping clients in their eCommerce journey. They are passionate about providing maximum value to the client by leveraging their experience and expertise in the eCommerce industry.

They have successfully delivered eCommerce solution to some notable clients like Dell, Telefora, Walmart, Target, Lexmark, Best Buy, and National Instruments.

They are Magento Professional Solution Partner and their area of focus includes:
Future Readiness

Art of Possible Via Evidence-Based Activities

Digital Marketing Optimization & Analytics

Commerce Engine Creation & Continuous Innovation

Consumerism of B2b

Digital Journey Maturity Model
Foundation Year: 2011
Company size: 11-50 employees
Speciality: Magento, eCommerce development, Digital Maturity, eCommerce, Design, Omni-channel strategy, Technology, Marketing, Oracle, Consumerism of B2B, Kibo, BloomReach, inRiver, Shopgate, Digital Transformation, User Interface, Mobile App Development, User Experience, Customer Journey Mapping, System integration, Digital Strategy, and Digital Marketing.


9. McFadyen Digital – Your trusted partner for Ecommerce, Marketplaces, and Marketing
McFayden Digital has a legacy of 30 years in delivering digital commerce, marketplace, digital marketing, and user experience services from three location namely Bangalore, Kochi and Trivandrum in India. They have Magento Professional Solution Partnership and ensure that client achieve their goals by implementing cutting edge technology which will be useful for meeting business objectives.

Their clientele is full of global brands like SONY, Neiman Marcus, LOUIS VUITTON, American Eagle Outfitters, and ACCO Brands
Foundation Year: 2011
Company size: 11-50 employees
Speciality: Commerce + Marketing Solutions, Magento, Marketplaces for Magento
,Digital Commerce, Digital Engagement Strategy, Digital Marketing, User Experience, Oracle Commerce Cloud, Oracle Marketing Cloud, eCommerce Services, ATG Consulting & Implementation, Digital Transformation, Online Marketplaces, Marketplaces, Mirakl,


10. Nagarro – Thinking Breakthroughs
Nagarro develops digital commerce solution that is based on cross-channel commerce, self-service & personalization, digital marketing and in-store experience. They offer end to end eCommerce solutions for an unparalleled user experience that is key in expanding the business of the client by increasing clients digital footprint. In India, they are located in Gurugram.

They develop cost-effective Magento based online stores for every size of the enterprise. Their Magento service includes Magento implementation, hosting, digital strategy & marketing as well as post-development support. They have earned Magento Professional Solution Partner.
Foundation Year: 1996
Company size: 5001-10,000 employees
Speciality: User Experience, Digital Commerce, Data Science and Analytics, CRM, ERP, Intelligent Automation, Technology Consulting, Managed IT Services, Product Innovation, Agile Development,  Cloud, Application Development, Mobility Solutions, Transformation and Modernization, IoT and Wearables, Independent Testing and Validation.
You may be interested in following: