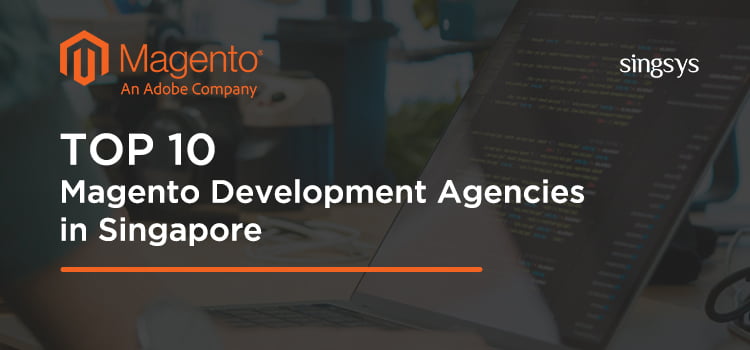 Magneto is undoubtedly the giant of eCommerce industry that is trusted by 240,000 satisfied merchants across the globe. It enable development of  eCommerce store that can be customised to maximum degree and proves to be of maximum usability for great user experience.
Magento is Miles Ahead of Even Second best Ecommerce Development Platform
If you are looking for top 10 magento development companies in Singapore that have experience and expertise to develop an extraordinary eCommerce store and gives your business a better visibility and introduce your products to broad set of audience  then below is the unbiased list of top-notch Magento development companies in Singapore.
After rigorous research on important parameters like portfolio, official affiliation with magento, certified magento professionals and commitment to deliver high end magento solutions. We have segregated best in class magento development companies in Singapore from the rest.
Singsys – Magento Official Partners to develop Bespoke and Beautiful E-commerce website that are Best EveryDay.
One of the leading eCommerce development companies in Singapore with Magento certified developer and official affiliation with Magento on behalf of Magento Community Insider Program, Singsys emerge as one of the finest magento development company to get your eCommerce store customised as per your business requirements.
They have magento experts who will build your eCommerce store from scratch and make it look visually appealing as well as incorporate the functionalities that will make your eCommerce website stand out in the arena of eCommerce which is experiencing fierce competition.
Foundation Year: 2009
Company size: 51-200 employees
Speciality:  eCommerce Store development, Mobile Application Development, Flutter App Development, React Native App Development, Website Development, and Digital Marketing.
aCommerce – Leading Brand Ecommerce Enabler in Southeast Asia
One of the leading eCommerce service provider in Southeast Asia (Singapore, Philippines, Indonesia,Thailand, Malaysia) commited to make eCommerce an easy and efficient journey for brands in Southeast Asia through online stores tailored for maximum online sales.
It is humongous firm with 1400 employees distributed in 5 offices. They have developed magento solutions for brands like Samsung, Microsoft, Reebok, Philips, Hewlett-Packard, Ray-Ban and more such high end clients. They are official Professional Solution Partner of Magento
Foundation Year: 2013
Company size: 1001-5000 employees
Speciality: Ecommerce, Shop-in-Shop E-Marketplace, Brand Commerce, E-Store Development, Logistics & Order Fulfillment, Performance Marketing and Customer Support Call Center.


CLEARgo –  We Build Omni Channel Brands
CLEARgo believes in development of 360 degree eCommerce solutions that are focused to increase online sales. They claim that their job is not limited to building an eCommerce store but, brand planning, management of eCommerce operations and business growth is also their responsibility.
Apart from Singapore, they have strong presence in Shanghai, Australia and Hong Kong. Their clientele is full of global brands like APIVITA, Canon, Samsonite, Mothercare, Kenneth Cole, OLI6, KEF, Philips and more.
They have earned Magento's Enterprise Solution Partner due to their innovation driven efforts towards creating best Magento solution. They are also official partners of  Salesforce Commerce Cloud, Salesforce Marketing Cloud and Tmall.
Foundation Year: 2009
Company size: 11-50 employees
Speciality: Magento, eCommerce solutions, e-commerce marketing,Marketing Cloud, Tmall Global, and Demandware.
Moni-Media – Digital Experience Digital Commerce Digital Transformation
It is in the arena of eCommerce since 2004 and has won eight awards in various categories including the Best eCommerce Agency of the Year at Asia eCommerce Awards 2018 in Hong Kong. This prestigious award is the result of their consistent efforts towards raising the client's ROI with user-friendly eCommerce solutions.
They focus on connecting peoples with brands on behalf of creative ideas and technology. Their performance is the result of their unparalleled commitment to deliver best-in-class eCommerce solutions which is reflected in terms of their  partnership with leading technology partners like PayPal, WordPress, Amazon Web Services and more importantly their Magento's Professional Solution Partner.
Foundation Year: 2004
Company size: 11-50 employees
Speciality: E-Commerce, Customer Experience, Shopify, digital commerce, OmniChannel, store of the future, Creative Strategy, Mobile Marketing, Digital Strategy, Mobile Application, Online development, Video and Animation, Digital Marketing, Social Marketing, Retail Digital, Magento, and Demandware.
MW2 Consulting – End to End Certified Magento Services Experts with 10+ Years of Experience
They are really diverse in terms of services including Magento Development, Magento Store Operations, Magento Integration, Magento Hosting, Magento Support and Magento SEO. Their Magento experts undergo the latest training in Magento to ensure every requirement by the client can be implemented in the eCommerce website.
They are Magento Professional Solution Partner and their process is driven by Fast2Commerce™ methodology which garners lot of benefits like less implementation cost, elimination of errors and better time to market. They have 520+ satisfied customers with 125+ Magento projects successfully completed and launched on time as well as boast a huge experience of 18+ years in the eCommerce industry.
Foundation Year: 1999
Company size: 51-200 employees
Speciality: Magento, Magento: Store Design, SAP, Oracle (Siebel), Microsoft, Engineering, Support, Java, .Net, PHP, Python/Django, Ruby/Rails, Mobile Computing – iOS or Android based, IITIL/ITSM, Business Process,End-User, and Infrastructure Monitoring.
Isobar Commerce –  Turn Visions into Effective Realities
Isobar Commerce has a huge team of 6,500 professionals spread across 85 locations and are focused on serving 45 global markets. Their partnership with Magento is of Global Elite Solution Partner and have been selected as a leader among commerce specialist service providers by Forrester.
They deliver global integrated platforms and solutions by leveraging their expertise in Adobe, Magento, SAP Hybris, and Salesforce as they have a partnership with these technology giants. They have an in-depth understanding of data and customer behaviour that helps them innovate eCommerce solution to match the latest industry trends.
Adidas, Huawei, Coca-Cola, Google, General Motors, Enterprise, Procter & Gamble and Lego are part of their clientele.
Foundation Year: 2003
Company size: 5001-10,000 employees
Speciality: Digital Marketing,  Digital Ecosystems, Digital Products, Innovation, Brand Commerce


SmartOSC – Your Trusted E-commerce Partner
SmartOSC provides magento based eCommerce development and consultation services since the dawn of Magento in 2008. They a strong team of 198 Magento 2 certified experts who have successfully delivered 500+ projects. They have gained Magento Enterprise Solution Partner title.
They have an impressive client list that includes Mothercare, Club 21, Smartbox, Lotte Corporation, eBay, Priceline, Aspire Lifestyle, PayPal and more. Their magento consultation service will help you decide best way to use Magneto for your advantage.
Foundation Year: 2006
Company size: 201-500 employees
Speciality: E-commerce, Managed Hosting, Mobile App Development, Website Development, UX/UI Design, Consulting, Product Development and Content Management System.


Valtech – Where Experiences are Engineered
Valtech considers itself as the latest digital agency with a primary focus to propel the growth of business leaders in digital commerce. Valtech is renowned in Singapore for eCommerce solution and is also spread across almost every corner of the globe.
They are also Magento Professional Solution Partner with Magento certified experts to help them develop competitive Magento based eCommerce solution for a greater customer experience and more online sales.
Foundation Year: 1993
Company size: 1001-5000 employees
Speciality: Digital strategy, Customer Experience, Enterprise Technology, Marketing Technology,  Agile Transformation


Ranosys – Simple, effective and creative excerpts of IT solutions and technologies
Another Singapore based company expertising in providing magento based eCommerce solution and are Magento Professional Solution Partner. They have a tema of 250+ professionals who are dedicated to provide end to end Magento solutions to brands across B2B and B2C clients.
Their expert level Magento knowledge helps them make highly scalable and robust magento solutions to help client achieve maximum business profit.
X2i – Magento Singapore Agency
X2i is one of the leader in Magento solution provider in Southeast Asia on behalf of their eCommerce expertise. They ensure excellent eCommerce solution on behalf of their dedication and specialization in design, optimization and implementation of eCommerce sites. Expertise, Knowledge, Experience and Methods are the values to help them digitize their clients sales and increase it further.  
What makes it an ideal Magento solution development firm in Singapore
7 Magento Certified Developer certifications

4 Magento Certified Developer Plus certifications

2 certifications Magento Certified Front End Developer

2 certifications Magento Certified Solution Specialist

They are also Magento Professional Solution Partner.
You may be Interested in Following: